Featured Image:

Assistant VP Melinda Bunnell-Rhyne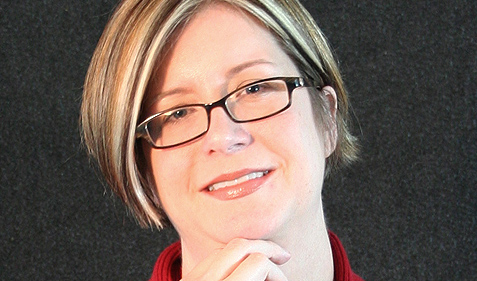 Melinda Bunnell-Rhyne
Assistant Vice President for Student Engagement and University Development
Responsibilities: 
Student Life
Student success services
Student support
Career services
Working at Capitol Since: 1996
What motivated you to work in higher education, and what do you enjoy most about the profession?
I was a chemistry major in college. I found the course work to be very tough and believed that my math skills were not advanced enough for the field, making it even more difficult.
On the other hand, I was a very active student leader. I served as a resident assistant starting in the spring of my sophomore year and continuing through graduation, a founding member of the Residence Hall Association on campus, and a chair of the Social Committee during my junior year. My work as a student leader was challenging and rewarding, while my course work in Chemistry was a struggle and often resulted in clothes with holes in the elbows from hydrochloric acid spilled on the bench during labs.
In the fall of my junior year, I realized there were professionals doing things very similar to what I was doing as a student leader and I thought a student-centered career in higher education would be more rewarding for me than any career in Chemistry. I changed my major to Psychology, completed my degree with my class and began working in residence life as a professional.
What I enjoy most is watching the development and transformation of individual students. On graduation day, I am amazed to see young people who have changed so much since the day they started at Capitol and become something they might not have been without the Capitol Experience. I tell families all the time that my favorite days are orientation day and graduation day -- new students join our community with so many dreams and when they fulfill one of their dreams and have the skills, both academic and personal, to make the rest of their dreams come true.
What is your most enjoyable project?
Planning for and implementing any project that directly impacts the student experience; summer bridge programs, freshman seminar, orientation, leadership workshops, career programs, supplemental instruction. I am passionate about student success and seeing students graduate so any project that is likely to improve our students' chances of fulfilling their dream of earning a bachelor degree is enjoyable to me.
Describe any of your proudest professional accomplishments, awards, publications, etc.
I was a first generation college bound student. Neither of my parents have college degrees, so my degrees are accomplishments of which I am very proud.
In 1996, I was named Advisor of the Year at Alfred State College for my work with the Rainbow Union a student organization for Gay, Lesbian and Bisexual students. This was a proud accomplishment because the campus was not safe for these students and this group created a space where the members could be themselves and feel safe.
I am proud of my role in facilitating the steps Capitol Technology University has taken to address student success including implementing Freshman Seminar, centralizing advising, and initiating Supplemental Instruction. I am also excited about the role student life has taken in developing leadership opportunities and training.
In recent years, I have become involved as an evaluator with the Commission on Higher Education for the Middle States Association and find that work to be very rewarding both as an opportunity to learn from my colleagues and as an opportunity to ensure that colleges within the association a standard quality of education.
What book is on your nightstand right now?
"The Lucana" by Barbara Kingsolver, I've read and enjoyed all of her novels and right now she is on tour promoting the book. I rarely buy a hardcover, but I couldn't resist this one. My guilty reading pleasure is the Stephanie Plum Series by Janet Evanovich. I am still waiting to borrow her most recent in the series, "Finger Lickin' Fifteen".
What do you enjoy most about working at Capitol?
What I enjoy most is the size. I love that when I walk down the hall there are no strangers. I know the names of most students and recognize all of the members of our community.
Is there anything that you've learned from students or co-workers that you take to heart?
The first supervisor I had believed the most important thing you could do was solve the problem at hand and not be distracted by looking for someone to blame. For me, that translates to a philosophy of serving the student first and fixing the system second.
What one technology do you wish were available now?
A widely available and reliable electric car.
What kinds of projects/committees/groups are you active in on-campus?
Co-Chair of the Self-Study Process for reaccreditation by the Commission on Higher
Co-PI for Capitol Scholars Program
Education for the Middle States Association
Academic Affairs Council
Enrollment Management Team
Student Information System Committee
Emergency Preparedness Task Force
Developing Orientation for Graduate Students and Non-traditional Undergraduate Students
What are your interests and activities off-campus?
Food and cooking are my interests outside of work and family. I subscribe to Cook's Illustrated and love trying new recipes. Lately, I have been exploring Indian Cuisine and fast flavorful weeknight meals. Outside of that, I have two boys (5 years old and 18 months), so my life is filled with soccer practice and games, as well as swim classes. I try to squeeze a Yoga class or two in each week for myself.
What should incoming students and other staff members know about you as a person and as a professional?
I truly want each and every student to be successful. Any student who seeks help will find professional staff who will advocate for them to the best of their ability.