Alumni Letter from President Wood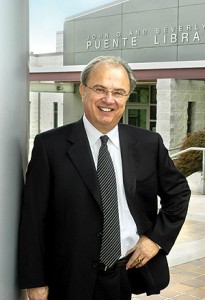 October 28, 2015
Dear Capitol Alums,
The 2015-2016 school year is off to a wonderful beginning, so I would like to take this opportunity to update you on the continuing innovations and successes at your university. 
We have a 35% increase in newly registered undergraduates.  Our freshman retention rate jumped five points, to 85%.  Masters' enrollment is up. And, while maintaining our Doctor of Science program, we have added a new Ph.D. program in Management and Decision Sciences, with a cohort of 14 candidates.  The fall builds on a successful summer in which, among other things, we hosted 19 Brazilian students for an eight-week program in astronautical engineering, and completed a feasibility study for international recruiting; we expect more global involvement in the university, initially from Brazil, Canada and Asia.
We have new partnerships with the LEIDOS Corporation to help support our Cyber Battle Lab, and with SGT, Inc. to support internships in engineering.  Other companies have stepped up to support our new Identity Credentialing and Management lab. A local aerospace company (Hammer) is offering software to support our Space Operations Institute. We've also launched a joint program with the Catholic University Institute of Buea (Cameroon) to train faculty in cyber-security.  We are exploring partnering with a major California firm to educate the future workforce in virtual and augmented reality technologies and applications.  And, speaking of California, we may be in the movies!  Universal Studios has asked to use our convention-display material on cyber-security as footage in the next Jason Bourne movie, due to film next year.
The "dorms" project, now the Living Learning Center, is progressing.  We have modified the project to include three new academic laboratories adjoining the residence facility.  The Maryland Independent Colleges and Universities Association is supporting our proposal for state funding for the academic part of the building.  We continue to work with financiers to support the residence component of the project.  We are still targeting a fall, 2017 opening.
Thank you to all of our alums who support Capitol, whether it is serving on the Alumni Council, mentoring a student, attending events, connecting Capitol to organizations, or making financial contributions.   The Alumni Association has raised over $8,000 for the Fusion Lab.  Several alums participated in the 8th Annual Golf Tournament, which grossed over $25,000 for scholarships.  Your gifts of time and treasure truly make a difference for our students!
I hope you are continuing to use your Capitol Institute, College, or University education.  Your Capitol remains vibrant and future-focused, while cherishing our legacy and all of you who make that legacy great.  Two of your mentors retired this year – Professors Charlie Vergers and John Ryan.  That's not so huge a loss, because they may occasionally return to teach a class for us (John already is).
We are here for you.  Please stay in touch.  If you wish some career guidance, please contact Career Services (careers@captechu.edu), and if you would like to learn about ways to get involved, please contact Alum Relations (alumni@captechu.edu).   The Alumni Association will continue to offer opportunities for you.  Nicole Patton, 2007 BS MIT graduate, was recently elected president of the Alumni Council to lead Alumni Association initiatives that support and promote Capitol's mission.  And, let us know what is new with you, so we can spread the good word in our Capitol Chronicle.
Best regards, and Happy New (School) Year,
Michael T. Wood, PhD
President
Capitol Technology University