Like any transformative technology, unmanned and autonomous vehicles (UAV) are bound to reshape the job market, making some occupations obsolete while increasing the need for others. From repairing equipment to coding software, many different kinds of professional opportunities are emerging – though all require some degree of specialized know-how.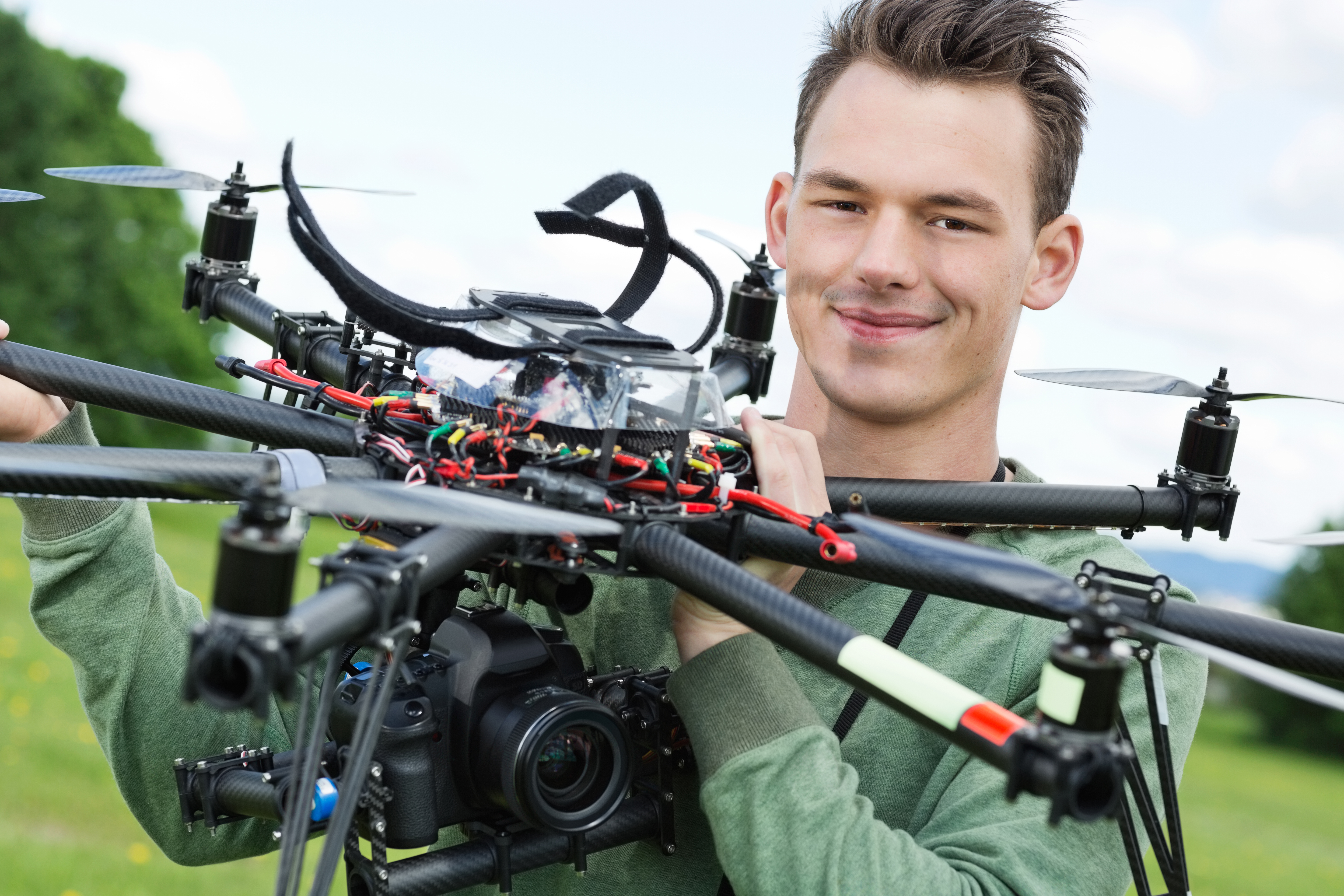 Dream of flying a drone for a living? It's possible now – and with the right preparation and training, you could well surpass the income potential of whatever you were doing before.
You may have read the stories of freelance UAV pilots who make six-figure incomes taking aerial photos of building construction sites – land a gig with one of the big companies, and the pay can be as high as $3,500 a day. Success in the business can require persistence, and operators must be able to absorb startup costs – including the costs of pay-boosting certifications – and insurance. Still, with UAVs being increasingly utilized for tasks ranging from building inspection to storm recovery, the investment can pay off in a big way over time.
But being a drone pilot isn't the only professional avenue available. UAVs depend on sophisticated computer systems, so software engineers and coders are essential. Personnel with the right blend of skills are also needed to design, build, test, troubleshoot, and repair UAVs. Cybersecurity experts with an understanding of UAVs will be called on to protect them from being sabotaged or commandeered by adversaries.
As push and pull continues over the regulatory framework – with many in the industry hoping for eased restrictions – the field will also need experts with an understanding of current policy as well as the particular security risks that must be addressed.
Analysts are bullish on the industry's outlook. Goldman Sachs, for example, forecasts a $100 billion market for drones between now and 2020, with increased interest in commercial and civil applications helping to drive growth, along with continued demand in the defense sector – currently the largest market for drones.
"The fastest growth opportunity comes from businesses and civil governments. We expect they'll spend $13 billion on drones between now and 2020, putting thousands of them in the sky," Goldman-Sachs said. 
Growth in the commercial sector is good news for novice engineers hoping to land their jobs. Compared to the aerospace and defense industry, which typically recruit highly-experienced engineers who either have or can obtain a security clearance, commercial and consumer-oriented businesses are more welcoming of brand-new talent, according to an IEEE report. While the IEEE reports a still-tight job market, that's likely because many companies have only started dipping their toes into the field. The number of jobs will grow as businesses find more and more applications for UAV technology – particularly if current regulations limiting height and range are relaxed in the future.
The challenge – and excitement – of UAV engineering is that it brings together a blend of expertise, from programming skills to an understanding of command and control systems. Already have a solid foundation in engineering or computer science? Now is the time to stack up additional credentials and build up your knowledge concerning unmanned and autonomous systems (UAS). Including not only drones but also ground and underwater vehicles. Capitol Tech offers programs at the undergraduate, master's, and doctoral levels – don't wait to position yourself for opportunities in this growth field of the future!

Interested in building a career in unmanned and autonomous systems? Contact us today at admissions@captechu.edu to learn more about the range of programs available at Capitol Tech.