Walters, Angela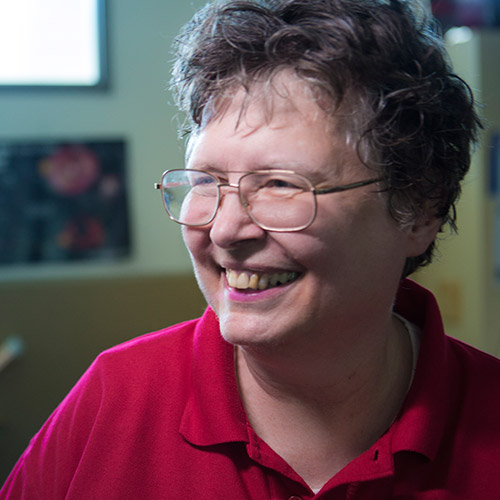 Program Chair and Professor, Astronautical Engineering
B6
301-369-3614
awalters@captechu.edu
I was born in PA, moved to MD in 1989 to attend graduate school. I live with 3 cats and am a Dallas Cowboys fan. I have been teaching at CapTechU since Fall 2000. I have always been interested in NASA and the Space Program. I have done a tandem skydive, flown a bi-plane and done white water rafting.
Areas of Expertise:
Astronautical Engineering
Satellite Ground System software such as Galaxy and STK
Advanced Orbital Mechanics
Satellite Navigation Satellite Attitude and Control
Systems Engineering
Mission Assurance
Mission Planning
Automated Ground Systems
Biography:
Education
BS Mathematics, Arcadia University
MS Physics, Drexel University
Professional Achievements
Promoted to Astronautical Engineering Department Chair
Lead student teams participation in the RockSat X program (3 successful launches)
Certifications & Licenses
STK advanced training certificate
Honors & Awards 
Received NASA Group Achievement Award
Voted Esteemed Professor
Received Faculty Service and Researcher Awards
Received Recognition Awards for my work on the Space Operations Institute
Received Recognition Awards for my leadership for the NCC System Integration and Test 
Research & Publications
Crawl, Walk, Run, Fly! Methodology for student satellite project success
Managing Student Run, Student Led projects
Posters related to using Aerogel for capturing on orbit micro debris
Designing small satellites using a multilayered 3-D printed shell
Organizations & Affiliations
Volunteer/Service Experience
On Campus:
Advisor to VelcroSat Club
Model Rocketry Club
 Demonstrations a participation in Jump Start Juniors
Open Houses
Volunteer advisor/mentor:
University's RockSat X team
 High Altitude Balloon interns
 Member of the MD Space Grant Consortium.