Bajwa, Dr. Garima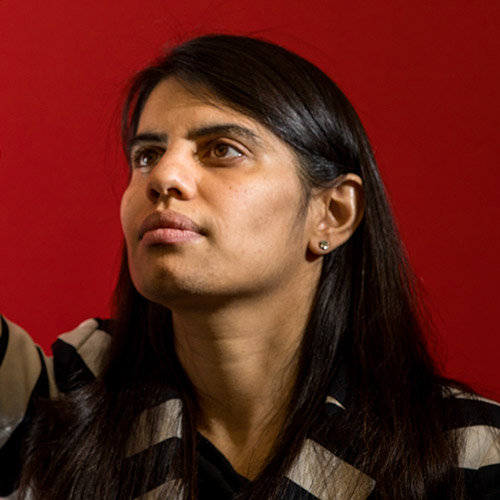 Assistant Professor Electrical Engineering and Computer Science
240-965-2467
gbajwa@captechu.edu
Prior to Capitol Technology University, Dr. Bajwa won multiple awards as a PhD candidate at the University of North Texas and interned as a data scientist and software developer in private industry. She has over 5 years of experience in data processing and mathematical modeling using tools/languages like Weka, Matlab, and R. She acquired diverse scholarly training in data mining and machine learning during her PhD work involving computer science, neuroscience and signal processing. Her research work involved recording, analyzing and decrypting brain signals via EEG measurements from human subjects. 
Areas of Expertise:
Brain-Computer Interface (BCI) 
Electroencephalography (EEG)
Signal Processing
Authentication
Computer Security
Machine Learning
Data Mining
Biography:
Education
Doctor of Philosophy, Computer Science and Engineering, June 2016 - University of North Texas (UNT), USA
Master of Engineering, Electrical and Computer Engineering, Jun 2011 - University Of Waterloo (UW), Canada
Bachelor of Technology, Electronics and Communication Engineering, Jun 2009 - Mody Institute of Technology & Science (MITS), India
Professional Achievements
Faculty Service of the Year, Capitol Technology University Faculty Awards, 2018
Honorary Faculty Member, Upsilon Pi Epsilon, The International Honor Society For The Computing And Information Disciplines, 2018
Outstanding Contribution in Reviewing, Computers and Electrical Engineering, Elsevier, 2017
Honors & Awards
AWARDS
Outstanding Doctoral Student, Department of Computer Science and Engineering, UNT, 2016
Top 8, National Three Minute Thesis (3MT®) competition, Conference of Southern Graduate Schools, Charlotte, North Carolina, 2016 
Winner, Three Minute Thesis (3MT), UNT, 2015 
Third place, UNT's Inaugural Graduate Exhibition, 2013
LASER Workshop grant, Washington D.C., 2013
UNT Graduate Student Travel Grant, 2013
ACM-Women travel grant, Grace Hopper Celebration of Women in Computing, 2012
SCHOLARSHIPS
Texas Public Education Grant (TPEG), 2013-2016
Tuition Benefit Award, Toulouse Graduate School, UNT, 2015-2016
UNT College of Engineering Annual Scholarship, 2014-2015
UNT scholarship for continuing graduate students (USC), 2013-2014 
Research Fellowship, NSF MRI 2008-G72373 Grant, 2013-2014
UNT Graduate Assistant Tuition Scholarship (GATS), 2011-2013 
UNT Academic Achievement Scholarship (AAS), 2011-2013
Research & Publications
Garima Bajwa and Ram Dantu, "Neurokey: Towards a New Paradigm of Cancelable Biometrics based Key Generation using Electroencephalograms," Computers & Security Journal, 62, pp.95-113, 2016.
Oscar N. Garcia and Garima Bajwa, "Integration of Quantum Information Systems in Computer Science and in Electrical Engineering," Journal of Integrated Design and Process Science, 19(4), pp.9-20, 2016.
Garima Bajwa, Ram Dantu, and Arvind Nana, "Quantifying Dynamic Cerebral Autoregulation using Electroencephalograms," Archives of Physical Medicine and Rehabilitation, 96(10), p.e69, 2015. 
Garima Bajwa, Mohamed Fazeen, Ram Dantu, and Sonal Tanpure, "Unintentional Bugs to Vulnerability Mapping in Android Applications," Intelligence and Security Informatics (ISI), 2015 IEEE International Conference on. IEEE, 2015. 
Logan Widick, Josh Talkington, Garima Bajwa, and Ram Dantu, "A Framework for Secured Collaboration in mHealth," in Collaboration Technologies and Systems (CTS), 2015 International Conference on. IEEE, 2015. 
Garima Bajwa, Ram Dantu, and Ryan Aldridge, "Pass-Pic: A Mobile User Authentication," Intelligence and Security Informatics (ISI), 2015 IEEE International Conference on. IEEE, 2015. 
Mohamed Fazeen, Garima Bajwa, and Ram Dantu, "Context-aware multimedia encryption in mobile platforms," In Proceedings of the 9th Annual Cyber and Information Security Research Conference (CISR '14), Robert K. Abercrombie and J. Todd McDonald (Eds.). ACM, New York, NY, USA, 53-56, 2014. 
Garima Bajwa and Ram Dantu, "Cerebral Autoregulation Assessment using Electroencephalograms,"In 8th International Conference on Body Area Networks (BodyNets 2013), Boston, MA, USA. 
Jagannadh Vempati, Garima Bajwa, and Ram Dantu, "NFC Based Two-Pass Mobile Authentication," In S. Angelos, and W. Charles (Eds.): Research in Attacks, Intrusions, and Defenses (RAID) 2013, Volume 8145 of Lecture Notes in Computer Science, pp. 467–468, 2013. 
Oscar N. Garcia, Garima Bajwa, Cynthia L. Claiborne, Shanti R. Thiyagaraja, Mohamed Fazeen, Eric H. Pruett; "Information Theoretic thread of Compression, Encryption, and Error Control for the Cloud,"ASEE-Gulf Southwest Conference, Arlington, USA, March 2013 
Garima Bajwa, Ram Dantu, Mohamed Fazeen Mohamed Issadeen, and Rajiv M. Joseph, "Self-tracking via Brain-Mobile-Cloud Interface," In AAAI Spring Symposium Series, North America, Mar 2013.
Organizations & Affiliations
American Society for Engineering Education (ASEE) 
Society of Women Engineers (SWE) 
Alpha Chi National College Honor Society
American Congress of Rehabilitation Medicine (ACRM) (former)
UNT Women in Computing (former)
Volunteer/Service Experience
Invited Chair, Young Professionals (YP) Affinity Group, IEEE Baltimore, 2018 – present
Campus Ambassador, American Society for Engineering Education (ASEE), CTU, 2016 - present 
Faculty Advisor, Society of Women Engineers (SWE), CTU, 2016 - present 
Mentor, Capitol Scholarship Program, CTU,  2016 - present
Judge, UNT summer undergraduate program in Engineering Research poster competition, 2015
Officer, UNT World Echoes Organization, 2011-2013
Deputy Secretary, BEACON (Society of Engineers at MITS), 2008-2009
Portfolio/Personal Website