Antunes, Dr. Alex "Sandy"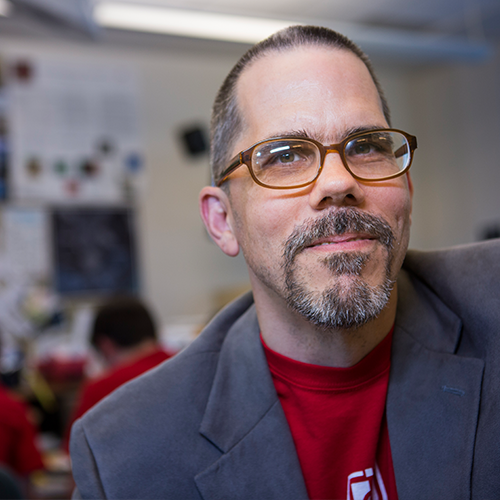 Professor, Astronautical Engineering
301-369-3615
aantunes@captechu.edu
Dr. Alex "Sandy" Antunes is a professor of astronautical engineering at Capitol Technology University.  He mentors and manages undergraduate payload projects that are student conceived and student led, including the Cactus-1 CubeSat mission and two summers with Brazil's "Science without Borders" exchange program, and has been a member of the NASA Academy of Aerospace Quality (AAQ) advisory board since 2015. His recent publications address open source satellite work, cheap deployable sensors, machine learning, and engineering education. In addition to scientific research on solar physics, X-ray binaries, and collisional remnants, he has written five "DIY" technical books for O'Reilly/Maker Media on amateur space and machine learning topics. Prior work includes spacecraft science operations and astrophysics work at GSFC, solar physics at NRL under an NRC fellowship, design of the DIY TubeSat "Project Calliope", and freelance science writing.
Areas of Expertise:
Physics
Computational science
CubeSats and small satellites
Space operations
Scripting
Game design
Remote sensing
High performance supercomputing
Astronomy
Biography:
Education
B.S., Astronomy & Physics from Boston University
M.S., Astronomy from Pennsylvania State University
Ph.D, Computational Astrophysics from George Mason University
Professional Achievements
PI for NASA CSLI CubeSat launch opportunity grant 2015-2017, 
Lead for Capitol's collaboration with Brazil "Science Without Borders" 2015 & 2016  
Certifications & Licenses
Basic Analysis and Design USA (Certificate of Graduate School 1986
FAA Technicians Class License (KB3VNB)
Honors & Awards 
Capitol Faculty Teacher of the Year 2013
Researcher of the Year 2013 and 2015
Research & Publications
2015, NASA/AAQ,  "Using HAB for Rapid Development", Antunes, Shrenk, Gesterling & Walters
2015, GSFC Engineering Colloquium, "CubeSats: Innovation and Risk in the (tiny) New Space Frontier"
2015, World MakerFaire, "How Much Damage Can You Do From Space"
2015, DIY Comms and Control for Amateur Space, O'Reilly Media 
2014, ASEE, "The Neglected Art of Sourcing in Engineering Education", Antunes & Raab
2014, Aus. J. of Telcom, 'Cheap Deployable Networked Sensors for Environmental Use' 2014, AAS, 
2014, "Profiling Near-Earth Debris Using PicoSatellites",  Antunes, Shrenk, Bormanis,  Walters & White
2014, World Makerfaire, "CubeSats: Toys or Real Science?"
2014, featured on The Big Picture with Kal Penn, 'Space Invasion' 
2014, 'Your Own Satellite: 7 Things to Know Before You Go', Make Magazine
2013, AIAA, "Constrained Multi-Altitude Design by 3-D Printed CubeSat Usings", Antunes, Walters, Bormanis & Shrenk
2013, ASP talk, "Scenario Crisis Cases in Distance Learning Sessions", Antunes & Walters
2013, DIY Instruments for Amateur Space, O'Reilly Media 
2012, Surviving Orbit the DIY Way, O'Reilly Media 
2012, DIY Satellite Platforms, O'Reilly Media 
2012, 'Comic books in the physics classroom', Physics Today 
2011, 'The Challenge of Gifted Education', Physics Today 
Organizations & Affiliations
Board member NASA Academy of Aerospace Quality (AAQ) 2015-2017
Member of: American Astronomical Society (AAS), American Geophysical Union (AGU), National Association of Science Writers (NASW), American Institute of Aeronautics and Astronautics (AIAA), International Game Developers Association (IGDA) 
Volunteer/Service Experience
PI on NSF "Capitol Scholars Program" grant
Flower HS Mentor 2013 & 2016 
MakerFaire 2015 & 2016 
PGTAG 
Portfolio/Personal Website