McCaskey, Dr. Steve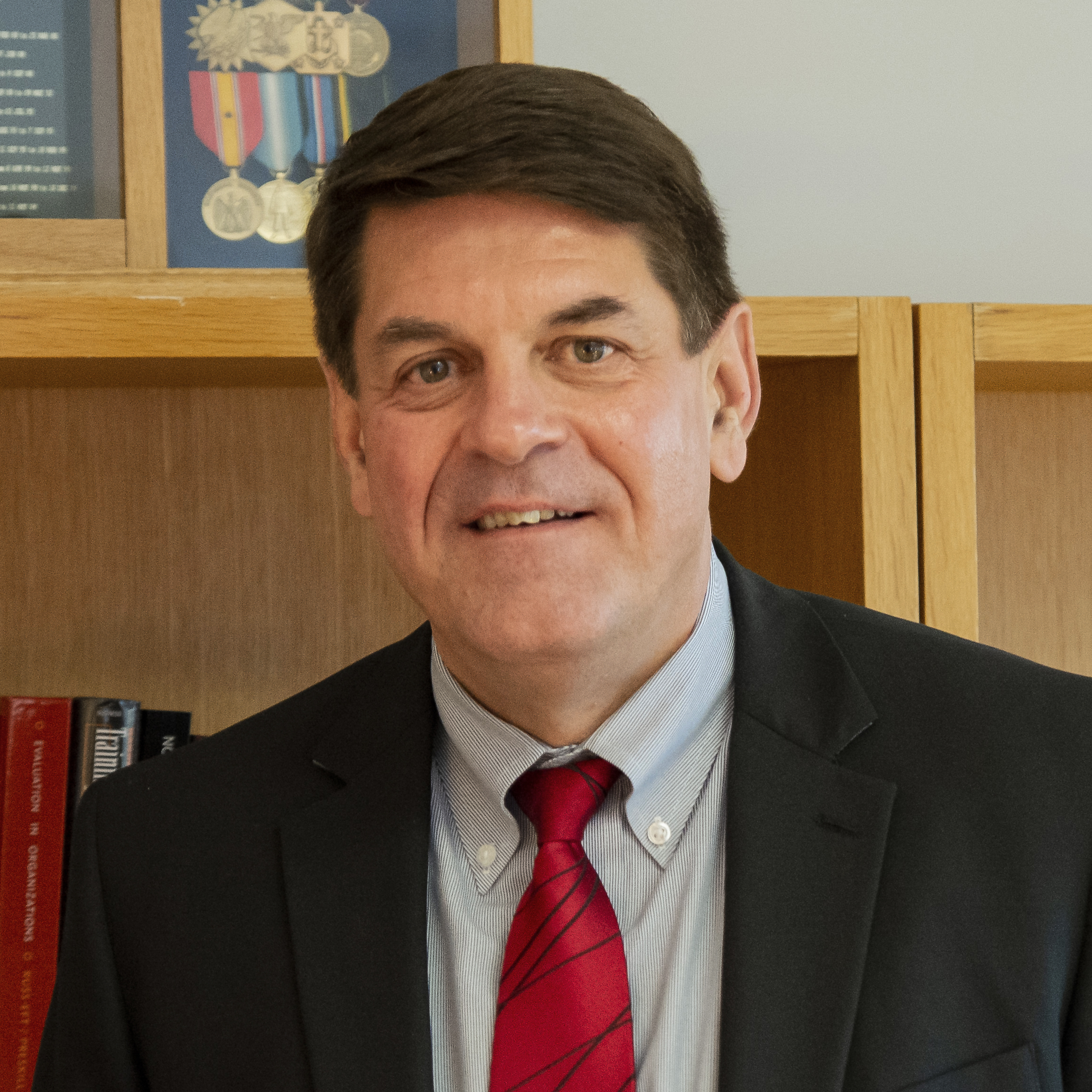 Vice President for Academic Affairs
Dr. McCaskey developed a solid background in aviation during his twenty years in the United States Navy. As a C-130 and P-3 Flight Engineer with over 5,000 flight hours, he became an expert in aircraft systems, weight and balance, emergency procedures, aircraft flight profiles, safety of flight, and aircrew flight equipment. This considerable systems knowledge allowed him to obtain an FAA Airframes and Power Plant license. 
At the conclusion of his Navy career, he earned an undergraduate degree in Aviation Management, graduate degree in the field of workforce education specializing in developing training programs, and earned his Ph.D. in Workforce Education and Development with an emphasis in adult learning. During his tenure at Indiana State University, Dr. McCaskey developed and coordinated an adult degree completion program for the Indiana State University (ISU) College of Technology. Based on his extensive aviation experience, he was selected to serve as the ISU interim Aviation Technology Department Chairperson which included the responsibility of providing ISU Flight Academy oversight. 
Areas of Expertise:
Aviation
Career and Technical Education
Adult Degree Completion Programs
Biography:
Education
Doctor of Philosophy, Workforce Education and Development, 2009 - Southern Illinois University Carbondale
Master of Science, Workforce Education and Development, 2006 - Southern Illinois University Carbondale
Bachelor of Science, Aviation Management, 2004 - Southern Illinois University Carbondale
Professional Achievements
CAPITOL TECHNOLOGY UNIVERSITY, Laurel, MD 2019

Vice President for Academic Affairs

INDIANA STATE UNIVERSITY, Terre Haute, IN 2008-2019

Associate Professor
College of Technology (COT), Interim Associate Dean Student Services
Director, COT Center for Workforce Education
Interim Chairperson, Aviation Technology Department
Program Coordinator:

M.S. in Career and Technical Education
Bachelor of Applied Science (BAS) in Technology
B.S. in Career Technical Education
B.S. in Adult and Career Education (ACE)

UNITED STATES NAVY, AVIATION 1984-2004

P-3 Orion Flight Engineer Instructor
C-130 Hercules Flight Engineer Instructor
High Risk Instructor
First Class Petty Officer Association Secretary, Vice President, and President
Certifications & Licenses
FAA Airframes and Power Plant license
Professional Honors and Awards
McCaskey, S. J., & Crowder C. L. (2015, June). American Association for the Adult and Continuing Education (AAACE) Malcolm Knowles Award for Outstanding Adult Education Program Leadership, B.S. Degree in Adult and Career Education, Indiana State University, Oklahoma City, OK.
Received, 2015 AAACE President's Appreciation award for Exemplary Commitment and Service to AAACE, Oklahoma City, OK.
Received, 2015 Omicron Tau Theta Distinguished Service Award as National President Elect 2007-2009, National President 2009-2013, and National Past President 2013-2015, New Orleans, LA.   
Received, 2014 AAACE Conference Service Letter of Appreciation
Received, 2013 Omicron Tau Theta Outstanding Professional Service Award, Las Vegas, NV,  National conference
Received, 2011-2013 ACTE Region III Policy Committee Member award for dedicated leadership
Received, 2011 ACTE Letter of Appreciation, Policy Committee Member
Awarded, 2010 Association of  CTE Region III Award of Merit
Awarded, 2010 Omicron Tau Theta Outstanding Dissertation, November, 2010
Awarded, 2007 Omicron Tau Theta Outstanding Thesis, December, 2007
George and Dianna Williams Scholarship – Certificate of Honor from the Southern Illinois University Foundation and the College of Education and Human Services. Awarded: April 09, 2006. 
Select Grants and Funded Scholarship Activity
McCaskey, S.J., Harris, K., & Fell, A. (2018, October). FedEx scholarship to ISU for Professional Aviation Flight Technology majors earning their Certified Flight Instructor certificate. Total scholarships awarded: $500,000.
McCaskey, S. J., Crossett, L., & Brauchle, K. (2010, November). Recipients of Indiana State University Strategic Plan, Goal THREE, Initiative TWO-b, Adult Degree completion program – B.S. in Adult and Career Education - marketing and promotion funding. Total funds awarded: $42,200.
Research and Select Refereed Publications
Bergman, M., McCaskey, S. J. (2019, Number 7). An Examination of Prior Learning Assessment Participation and Guidance at Four-Year Universities. Submitted to: PLA Inside Out: SUNY Empire State College. 
Crowder, C. L., & McCaskey, S. J. (2016). Career readiness and development of career and technical education teachers.  In M. Akdere & H. J. Yoon (Eds.), AHRD 2016 International Research Conference in Asia and MENA Proceedings. St. Paul, MN: AHRD.
McCaskey, S. J., & Crowder, C. L. (2015, Summer). Reflection on One's Own Teaching Style and Learning Strategy Can Effect the CTE Classroom. The CTE Journal: An International Peer Reviewed Career and Technical Education Online Journal, 3 (1), 2-12.
McCaskey, S. J., & Crowder, C. L. (2015). Bachelor of Science in Adult and Career Education: Research Based Program to Meet the Needs of Non-traditional Students. Research to Practice conference proceedings. 
Waite, A. M., McCaskey, S. J., Eversole, B., Collins, D., & Gubelman, S. (2014). Talent Selection: Community Service and Social Change Behaviors and their Effects on Leadership Efficacy. University Forum for Human Resource Development (UFHRD) 2014 conference.
McCaskey, S. J., & Arnett, S. E. (2012, Fall). Philosophical Teaching Style Continuum: Examination of Illinois Career and Technical Education Teachers' Classroom Practices. Workforce Education Forum , 36(2), 1-17.
Sum, V., McCaskey, S. J., & Kyeyune, C. (2010, May). A Survey Research of Satisfaction Levels of Graduate Students Enrolled in a Nationally Ranked Top-10 Program at a Mid-Western University. Research in Higher Education Journal,7(2), 1-17.
Offices Held and Obligations Performed in Professional Associations
Accepted nomination, American Association for Adult and Continuing Education (AAACE) Board of Directors, 2014 – 2017
Accepted nomination Omicron Tau Theta, National Past-President, 2013 – 2015
Accepted two-year appointment, Journal of Career and Technical Education, Editorial Board, November, 2013 - 2015.
Accepted nomination, National President, Omicron Tau Theta, November, 2012 - 2013
Planned ACTE Region III conference, ISU, Terre Haute, IN, June 2011
Accepted two-year appointment, Journal of Career and Technical Education, Editorial Board, November, 2011 - 2013.
Accepted nomination, National President, Omicron Tau Theta, November, 2011 – 2012
Accepted nomination, National President, Omicron Tau Theta, November, 2010 – 2011
Accepted three-year appointment as ACTE Region III Representative, 2010 – 2013
Accept nomination, National President, Omicron Tau Theta, November, 2009 – 2010
Accepted two-year appointment, Legislative Committee Chairman for Indiana Association of Career and Technical Education, October, 2009 – 2011. 
Accepted two-year appointment, National Association of Career and Technical Education's (ACTE) Resolution Committee, September, 2009 – 2011.
Accepted two-year appointment, Journal of Career and Technical Education, Editorial Board, December, 2009 – 2011.
Accepted nomination, National President-elect, Omicron Tau Theta, December, 2008 – 2009.
Responsible, Omicron Tau Theta portion of 2008 and 2009 CTE Research and Professional Development Conference
Elected, National President-Elect, Omicron Tau Theta, December, 2007 – 2008. 
Member, National OTT Long Range Planning Committee, March 2007 to January 2018
Chaired, Two ACTER research sessions at 2007 ACTER conference in Las Vegas, NV
Served, SIUC OTT Lambda Chapter President-Elect, 2006-2007
Served, SIUC OTT Lambda Chapter Treasurer/Newsletter Editor, 2005-2006
Military Awards
Awarded Air Medal Strike/Flight Award for Successful Completion of 28 Combat Missions 
Awarded Navy Commendation Medal for Leadership in the Naval Aircrew Program
Awarded Navy Achievement Medal for Organizing/Implementing new Curriculum Division
Awarded Navy Achievement Medal as Instructor Flight Engineer
Awarded Navy Achievement Medal as Senior Flight Engineer
Awarded Navy Achievement Medal for Unparalleled Mission Performance 
Awarded Aviation Warfare Specialist designation