Web Developer/Programmer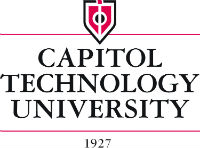 CAPITOL TECHNOLOGY UNIVERSITY
Position Description:
Web Developer/ Programmer
Full-time 12-month, Exempt Position
POSITION SUMMARY:

Capitol Technology University, a nonprofit university located in Laurel, Maryland seeks a Web Developer/ Programmer for the design, coding, and modification of the Capitol Technology University website and related web-based applications, including web forms. Individual will work closely with the directors, executives and external marketing team of the University to craft visually appealing web applications that feature user-friendly design and clear navigation.  As a member of the Marketing and Communications Department, the Web Developer/ Programmer will assist with updating and maintaining content on the University website as well as social media sites, and will be responsible for the look and feel of the MyCapitol portal. In addition, reporting directory to the Vice President for Enrollment Management and Marketing, the Web Developer/Programmer will develop and deploy programming scripts and SQL reports to support enrollment management team members.
POSITION RESPONSIBILITIES:
Maintain, test and troubleshoot Capitol websites
Meet with staff members to determine future needs on websites
Work with members of the campus community to ensure that content on the university website, as well as on affiliate sites, supports the university brand and is consistent with the university's web-design standards
Develop new features and functionality for existing websites
Contribute ideas and efforts towards internal projects and work as part of a team to find solutions to various problems
Become familiar with enrollment management business processes
Develop and deploy SQL scripts and reports for members of the enrollment management team.
Other duties as assigned
POSITION SKILLS AND QUALIFICATIONS:
2+ years of hands on Drupal experience
Proficient in the maintenance and administration of Drupal modules and sites
Experience with Drupal 7/8 theming
Solid understanding of HTML, JavaScript, PHP,  CSS and SQL
Experience working with ERP a plus
Familiarity with source control (Git)
Eager to embrace current and emerging web technologies
Experience integrating open source and third-party applications into existing systems.
Effective communication, interpersonal and organization skills
Proficiency in Linux web server administration
Versed in web security, including SSL/TLS
Understanding of jQuery and/or ASP.net a plus
Understanding of IIS features a plus
APPLICATION PROCESS:
Please include the following in your electronic application:
A Cover Letter - include examples of how you've demonstrated initiative and resourcefulness
A Resume - which exhibits both technical experience and a strong belief in customer service
REVIEW PROCESS:
An initial set of three month, six month, and one year goals will be established that directly relate to the work with that will be reviewed to and agreed upon. The goals, in addition to this job description outlining the duties and qualifications, will be reviewed within three months, six months and then yearly.

AFFIRMATIVE ACTION STATEMENT: Capitol Technology University is proud to be an equal opportunity employer committed to hiring a diverse and inclusive workforce. As stated in our Equal Employment and Affirmative Action Policy, available below, part of our commitment to a diverse and inclusive workforce, Capitol Technology University provides equal employment opportunities to all employees and employment applicants without regard to unlawful considerations of sex, sexual orientation, gender (including gender identity and/or expression), pregnancy, race, color, creed, national or ethnic origin, citizenship status, religion or similar philosophical beliefs, disability, marital and civil union status, age, genetic information, veteran status or any personal attribute or characteristic that is protected by applicable local, state or federal laws.