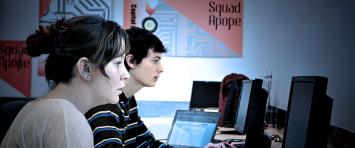 Capitol Cyber Challenge
Capitol Cyber Challenge: July 10-July 14, 2017
The Capitol Cyber Challenge features a variety of exciting, informative activities, including scavenger hunts and other cyber games; training in computer forensics; coding and scripting with Python and other languages; creating software robots; and working with 3D printers.
It's perfect both for students who are interested in cybersecurity but don't know much about it, and also for those who have had some cybersecurity experience during high school and want to increase their knowledge base. Instructor: Rick Hansen. Cost: $350
Register Now!
Click here for a printable registration form, or contact Pleshette Johnson at pnjohnson1@captechu.edu or call (240) 965-2510 for more information.