Campus Housing
Students live in apartments from their first day on campus, which means you don't have to wait until you're an upperclassman to enjoy freedom from stuffy dorm rooms.
Housing Eligibility
All registered, full-time students are eligible to live in the residence facilities. Single-sex housing is enforced and access for people with disabilities is provided. Capitol guarantees housing for continuing students who meet the April 15 deadline.
Residence Halls
The six residential halls, which are named after scientists, are located at the entrance to the campus. Each of the 15 apartments houses six to eight students.
Each single-sex, 1,400-square-foot apartment has:
four bedrooms (two singles and two doubles)
a large shared bathroom and living room/common area
a combined living, dining and kitchen area
available Wifi
a fully furnished kitchen including an electric range, oven, refrigerator/freezer, dishwasher and disposal
air conditioning and individual climate control

Carpeted bedrooms include wardrobes, desks, chairs, beds and dressers. All rooms are wired for cable television, telephone service (two jacks) and LAN access. Residents also have access to an on-site laundry area.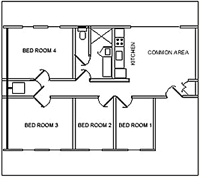 The Tower Apartments feature:
Four bedroom, four bath apartments
Washer /dryer unit in each apartment
Electronic key access system
Fitness center, game room and rooftop pool

Housing Costs
The following rates are in effect for the 2016-17 academic year (fall 2016 through spring 2017)
On-campus fall/spring housing:
Single room - $3,080 per semester
Double room - $2,668 per semester
Triple room - $2,256 per semester
Room reservation deposit, continuing students - $50
Security deposit, new students - $200
Student services - $100 per semester
Off-campus fall/spring housing:
Single Room - $3,300 per semester
Double Room - N/A
      *A limited number of college-affiliated apartments are available.
On-campus summer 2016 housing:
Single room - $202 per week
Double room - $175 per week