Featured Image:

Davis inspires Capitol graduates with story of resilience
"Be persistent in the pursuit of your purpose, whatever that may be, and understand that no one can burn down your dreams.  No one at all can take anything away from you that relates to your passion and purpose," Jerry Davis, CIO of NASA's Ames Research Center and head of its Information Technology Directorate, told the Class of 2017 during his commencement address at Capitol  Technology University on Saturday (May 13).
A 2003 alumnus of Capitol's master's program in network security, Davis has been instrumental in protecting information and digital assets at NASA and other federal agencies. He has held leadership roles in IT and cybersecurity at several institutions and agencies over the course of his professional career.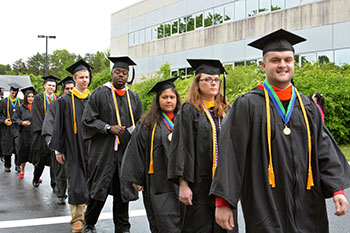 Drawing on memories of a childhood steeped in adversity, Davis delivered powerful examples of determination and resilience.
He spoke of a grandmother who worked multiple jobs and eventually saved up enough money to buy a house – only to have it burned to the ground by white neighbors on the very day the family moved in. He spoke of a mother who moved to California to seek out a better life for her family and children. He recalled difficult times when he and his brother would stare at the back of an empty refrigerator, and when it became necessary to scavenge discarded bakery items from the supermarket dumpster.
It was a tough way to grow up. But Davis persisted in his aspiration to transcend those circumstances, and in his desire for a purposeful life. His journey led him to the U.S. Marine Forces Reserve, where he served 11 years and became a decorated combat veteran, and then to a position with the CIA. He subsequently worked in the private sector before returning to federal government service, first with the Department of Education, and later with the Department of Veterans Affairs and NASA.
Encouraging graduates to "keep driving" towards their personal and professional goals, Davis also urged them to reflect on the support they receive from parents and family members.
"At the end of the day it's family and family first, all those people who are sitting behind you, that's the reason you're here, they're here to see you," he said. "They are the ones who will get you through the rough and the tough times."
Davis's address capped a ceremony honoring degree candidates from Capitol's undergraduate, master's and doctoral programs, which cover a range of business, engineering and technology fields.
The event was led by Dr. Michael T. Wood, president of Capitol Technology University, in his final commencement prior to retiring in June. Capitol's new president, Dr. Bradford L. Sims, was on hand for the ceremony.
Heading the procession of trustees, administration, faculty, and graduating students was the university's new marshal, Dr. Sandy Antunes, who succeeded longtime marshal Charles Case following the latter's retirement in 2016.