During the month of June, Capitol Tech is celebrating Pride by sharing numerous blogs that highlight influential LGBTQ+ figures in the STEM industry. The people featured in these blogs were particularly inspiring to us because of their innovation, dedication to their field, and strength in the face of adversity and hate. Please enjoy this special edition featuring one of our own alum. Happy Pride Month!
---
Capitology blog sat down with Cj Giovingo to discuss their time at Capitol Tech, their career at NASA's Jet Propulsion Laboratory (JPL), and the unexpected path they took to achieve both.
This is part two of the interview, focusing on Cj's work on the Mars 2020 Mission. Make sure to check out part one for more information on how Cj came to be a systems engineer and their role as an LGBTQ+/trans role model. Be sure to click through the photo album of Cj during the mission at the end of this blog!
CB: What does it mean to be a Systems Engineer at JPL? 
Cj: I'm in the middle of a big change. I was on the Mars 2020 Mission from 2014 to now. My job was on the Entry, Descent, and Landing (EDL) team, with the rover landing on February 18, 2021. The Mission is going forward but I'm not on that team. The remaining job of the EDL team is to collect all of the data and reconstruct the landing so that we can write lessons learned documents to feed forward to the next mission. 
I'm pivoting to work on the Mars sample return mission. The first goal of Mars 2020 was to send the rover and seek signs of past life, and that includes having Perseverance rover take core samples. We now have to work on the Mars Sample Return Mission, to bring those samples back to Earth. The Return Mission is a dance we will be doing with multiple partners, including NASA and the European Space Agency (ESA). ESA is sending an Earth return orbiter (ERO) and NASA is building the sample retrieval lander. There will be a small fetch rover and its job is to pick up the samples and drive it back to the lander. The lander contains a small rocket to launch those samples into orbit around Mars, join up with ESA's orbiter, and then return to Earth. My job is on the Mars Ascent Vehicle (MAV). 
CB: What do your days look like?
Cj: With systems engineering you're working with subsystems–power, telecom, payload –each are very specific functions. You need all of those functions to work as a whole. We are the "bigger view" people, the team of systems engineers. We specialize in the different areas. I'm not a subsystem specialist. I'm looking at how the MAV works with the lander. I'm a uniter.
As a result, days vary. I can be reading design documentation, others are sitting in meetings, and other days you're doing a lot of testing. 
CB: What do you like best about your job?
Cj: I love working for JPL. I love the culture at JPL. I love that they're constantly looking, and this is true of NASA as a whole, to solve the unsolvable problems. I love solving these big complex problems. I love the team aspect. Our EDL team – we call ourselves the EDL family – we had a lot of fun together and that helped the work. I've found that all over JPL.
CB: What is the biggest challenge you face at work?
Cj: You're not designing in a vacuum. Team members all have opinions and different personalities and quirks. You work very closely together. Your guard goes down so you see all different sides of people, which is both interesting and hard. In addition to the technical challenge, you have to navigate the personality end. It's rewarding, but takes work.
I think the other thing that is hard, when I talk about solving complex problems, half the time you don't know what's going. When you're building something new you don't know how it works.
CB: How did it feel when all of the Verification and Validation paid off?
Cj: You're so locked in, in those final months, really the final year or two, to this one day. You spent years on this mission, but the last year or two it's all you're doing. I was in the mission control room that day leading up to Mars, but you still have that feeling that you can't relax until it's on the ground. What everyone sees is the big show but we've been there for days and days. 
The initial moment of landing – it was a huge feeling of relief and pride. I think I was the first one out of my chair. Then it took a good two weeks for me to really relax and accept the work was done. We'd been so focused on this for so long, it took a while for my brain to accept it could move on. I had to keep saying to myself "it's there." 
It was a little sad, too. You have this big team and it's just done: the team splits up to work on other projects. It was a definite mix of emotions.
CB: What are the latest updates on the Mars mission?
Cj: Early stages of the surface mission has been great. We had the technology demonstration with the helicopter and that's been wildly successful, and that mission has been extended. Moxie has already created oxygen. That is a really big accomplishment for the future of human space flight. We can create oxygen for astronauts to breathe and also to create fuel. 
---
You can watch the video of Perseverance land on NASA's YouTube channel. Look for Cj as the EDL Activity Lead. Capitology Blog will continue providing blog coverage of the Mars rover and future missions.
Capitology Blog would like to thank Cj for taking the time to share their story and celebrates them and all members of the LGBTQ+ community for the contributions they continually make to STEM. We encourage all readers to celebrate pride not just in June, but all year long.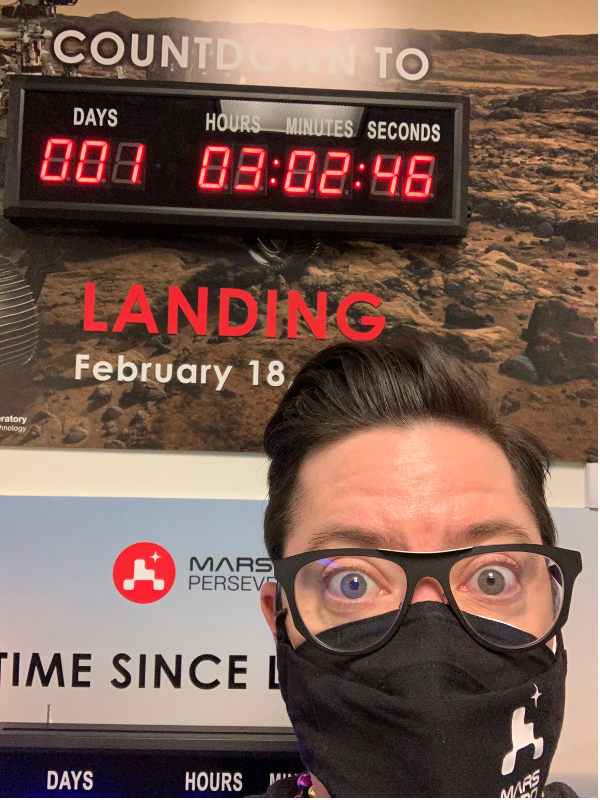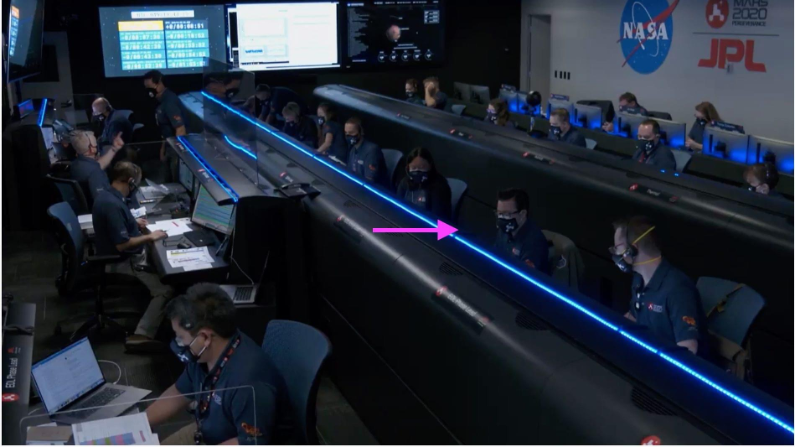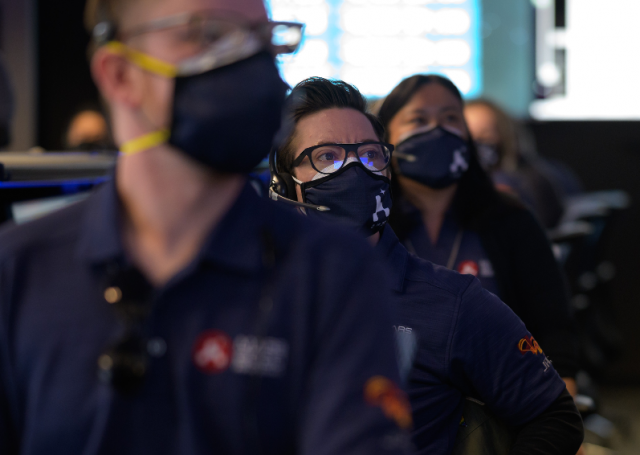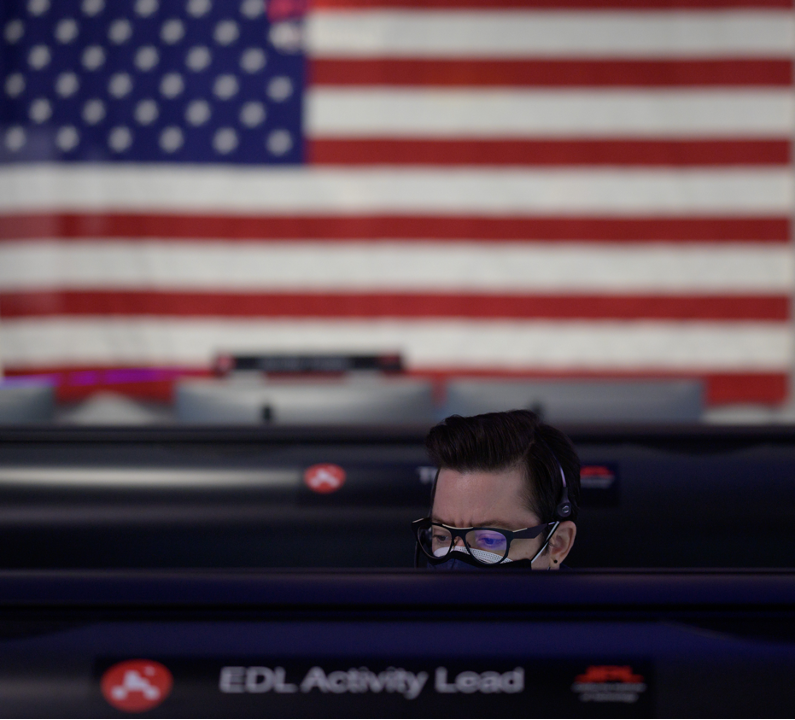 Cj one day away from landing
Cj in the lab one day before the scheduled landing of the 2020 Mars rover. Credit: Cj Giovingo
Morning of the landing
Cj in the lab with colleagues the morning of the rover landing, preparing for the event. Credit: NASA Jet propulsion Laboratory
Cj during landing
Cj waits anxiously for the successful landing of the mars rover. Credit: NASA Jet Propulsion Laboratory
Cj during landing 2
Cj keeps focused as they prepare for the rover's landing. Credit: NASA Jet Propulsion Laboratory