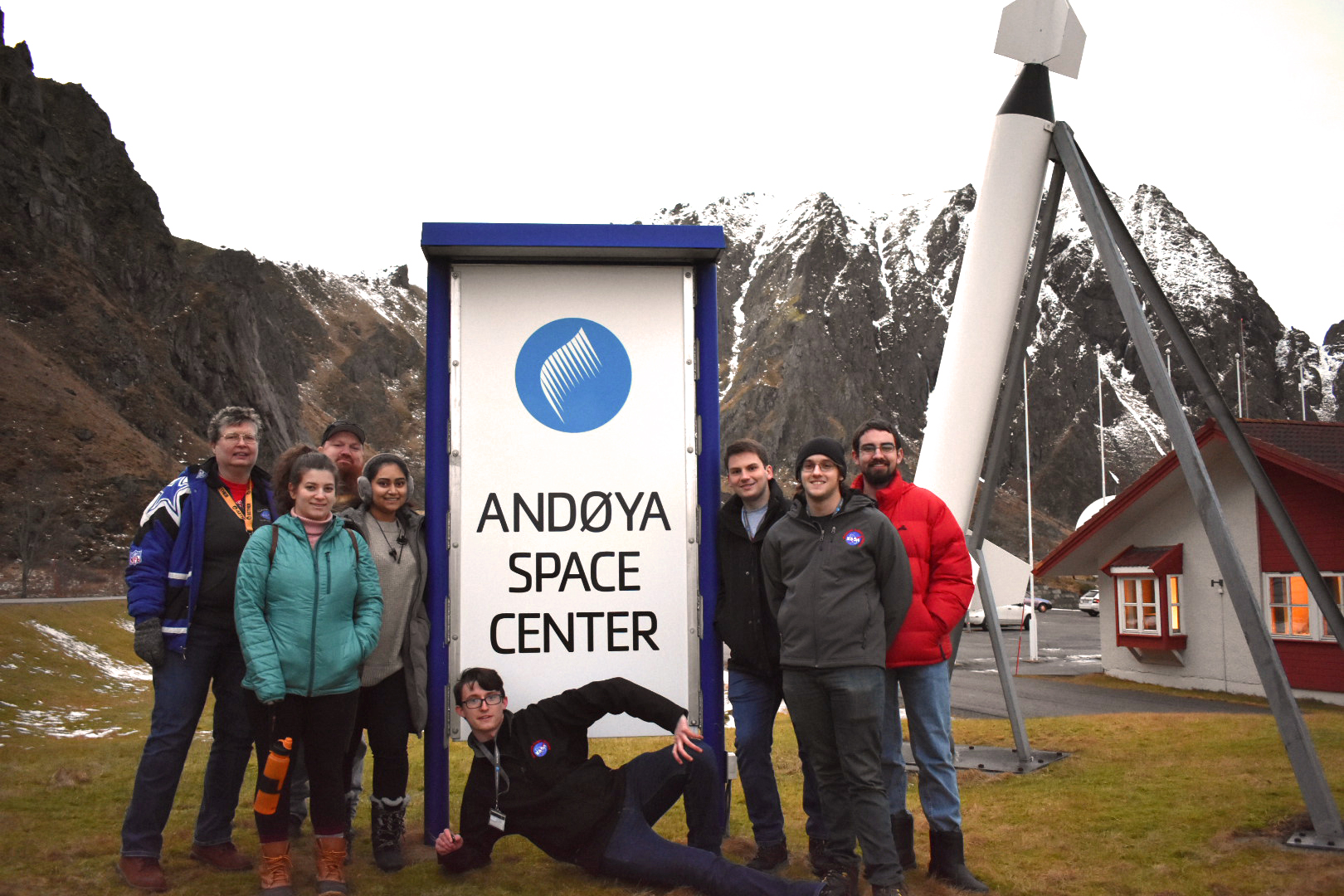 Project Aether is in Norway! After two years of collaboration, ingenuity, and hard work, a student team from Capitol Tech is awaiting launch of their payload as part of the  RockSat-X program.
"Weather permitting we will be able to see our science make it to space," says team co-lead Marissa Jagarnath. "We're all very excited to be here."
Since arrival, the weather conditions have been a mix of snow, sleet, and rain, she said.
The Capitol Tech students are among several teams from countries around the world – including the United States, Japan, and Norway – that were chosen for the Rocksat-XN program, established in partnership with the Wallops Flight Facility and the Andoya Space Center.
According to an official description, the program is designed to "give students access to space at a new launch site as part of the Grand Challenge Initiative," in which seven internationally-organized rocket launches are to take place In Norway between 2018 and 2019, with the goal of conducting space physics research.
The Capitol Tech team has brought together astronautical engineering, computer science, and business students for an ambitious science project with multiple objectives.
"We have three science objectives that we aim to complete," said Sophia LoSchiavo, who is co-leading the team together with Jagarnath. "We'll be analyzing the composition of the atmosphere, since there's a chance the rocket will fly through the Northern Lights. We'll be comparing the data we receive to known data gathered from other flights. Our second goal is to compare the functionality of a hybrid insulation method, which we will modify, to standard multi-layer insulation."
"Our third goal is to compare data rates from the Iridium satellite constellation to those of the rocket itself," she said.
Capitol is one of a small group of schools around the United States, including Penn State and the University of New Hampshire, that were selected for the Grand Challenge initiative. The Capitol team is collaborating with students from nearby University of Maryland Baltimore County, and the Maryland Space Grant Consortium has provided funds needed to secure a berth on the sounding rocket.
Professor Angela Walters, chair of the astronautical engineering program at Capitol, is in Norway with the team. Projects like Aether provide "great practical experience that students can use in their careers after they graduate," she says.
"All of us at Capitol Tech are tremendously proud of the Project Aether team and their achievements," Walters said, "The project has brought together students from different programs across the university to collaborate on designing a complex science payload.  It's great preparation for their professional careers."
"Lots of people dream about building something and launching it into space on a rocket. Capitol Tech students get to do it," she said.