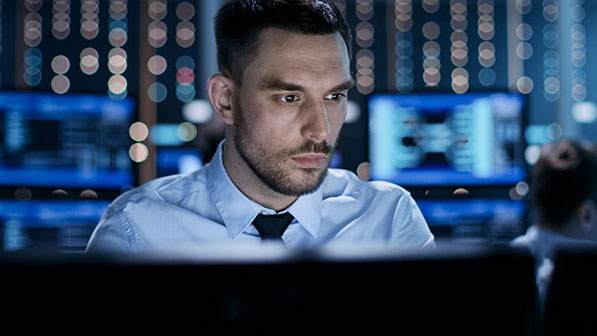 How much can you expect to make with a bachelor's degree in cybersecurity?
As with most fields, the answer depends on the specific job title, credentials, level of experience, and other factors. That said, the outlook tends to be robust across the board.
A report published in 2018 by the cybersecurity startup Exabeam found that cybersecurity professionals are well-paid, like what they do, and enjoy a strong sense of job security. Here are some of the details:
Salaries in the field are higher in North America than in either Europe or the Asia-Pacific – by an impressive margin. According to research by Exabeam, cybersecurity professionals in North America can expect to make between $75,000 and $100,000. For their counterparts in Europe and the Asia-Pacific, the range is $50,000 - $75,000.
The Exabeam survey also found that most in the field are happy with their work. Eighty-three percent of respondents reported being very satisfied, and more than 45% said they were satisfied. Job security is perceived as being strong: 80% said they feel secure about their long-term prospects. 
Artificial intelligence and machine learning are not perceived as a threat. The majority (75%) said they do not see their jobs being in jeopardy due to these innovations. On the contrary, they feel that AI can make their jobs better or easier.
With such high levels of job security and satisfaction, it's perhaps no surprise that many are now seeking entry into the field. Indeed, a report conducted by Payscale on behalf of CNBC listed cyber security engineer and cyber security analyst among the 25 fastest-growing jobs of 2018, with median salaries of $92,600 and $75,100, respectively.

The cybersecurity field encompasses a wide range of job titles, with considerable variance in scope. Land a position as Chief Information Security Officer (CISO) and you'll not only be making six figures, but shouldering responsibility for your organization's cybersecurity posture as a whole. At the other end of the scale are highly specialized roles such as intrusion detection specialist, computer security incident responder, and ethical hacker/penetration tester.
Writing for Dice magazine, Nate Swanner offers two suggestions to boost your earnings within the profession. Titles that include the word "engineer" (as in "cyber security engineer") will get you a bigger paycheck, compared to "analyst" roles. Secondly, obtaining the coveted CISSP certification typically leads to a bump in your salary, often by 10%.
Join the ranks of qualified cybersecurity professionals and earn a degree from Capitol Technology University. For more information, contact admissions@CapTechU.