Student engineers at Capitol have received welcome news about their aerogel-based space debris-capturing project: data received from an August rocket launch has demonstrated that their system works and is ready to be flown into space.
TRAPSat, as the project is known, was launched aboard a sounding rocket in August during NASA's RockSat-X program. The team equipped their experiment with a camera used to record images and provide data that could be used to prepare for the next milestone – an orbital mission expected to take place next year as part of the CubeSat Launch Initiative (CSLI).
Because the TRAPSat experiment was pushing data in real time, NASA was able to obtain images and readouts – even though an unexpected anomaly led to the RockSat-X payload not being recovered following the launch.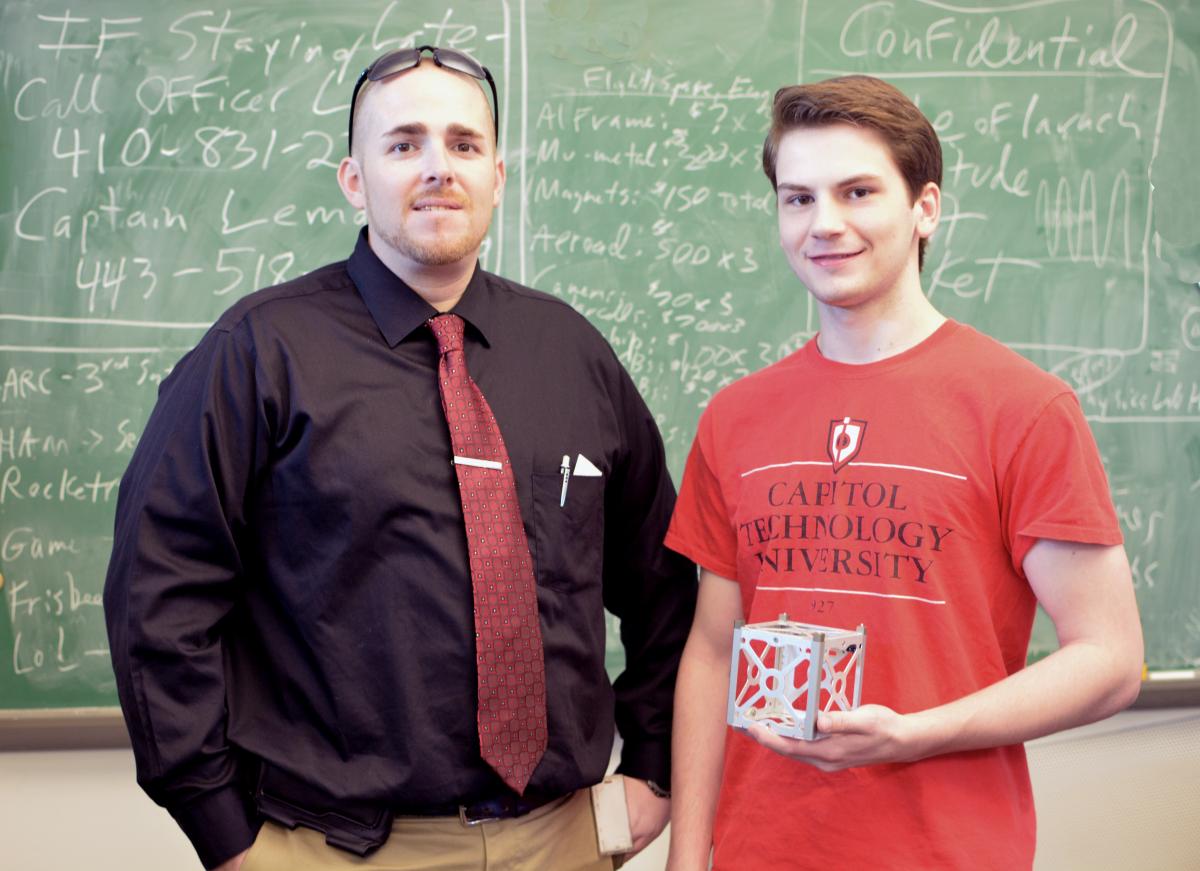 "It proved that our cameras worked – we got around 30 sets of images and about 60 temperature readouts," said TRAPSat's lead engineer and principal investigator, Ryan Schrenk. "We were able to get good pictures, prove our system works well and is ready to be flown on Cactus-1."
According to Pierce Smith, a student team lead for TRAPSat, the team was looking for specific information about some of the project subsystems.
"One of the things we were curious about was that our Raised Aerogel Support Container was made out of plastic. It's the thing that holds the aerogel which we're using to capture space debris. And one of the things we were concerned about was that it is made of plastic. The reason we had to make it out of plastic was that it needs to be precise enough at the corners. You can't get that with milling," he said.
"We were worried that the plastic construction could lead to outgassing while in space. Outgassing refers to little particulates that can coat the camera and stick to the lens. One of the good things we learned was from the RockSat X pictures is that it didn't outgas, and if there was any outgassing it didn't cover our camera. And that tells us that using plastic – or at least that amount of plastic – in space would be okay for what we needed," Smith said.
The launch also provided an opportunity to assess the quality of the images that the project receives while in space, said Christopher Murray, also a student team lead.
"In our design, the camera points straight into the aerogel, with a Mylar sheeting covering it. Aerogel takes in light differently – sometimes it's a bit foggy or dark. We found out during the flight that we had the right amount of sunlight piercing through the Mylar sheeting. Between this and the camera flash, we were able to see it clearly, as though it was window glass," Murray said.
Moreover, data from the TRAPSat camera was able to assist NASA in determining what caused loss of the payload. Some possibilities – such as a malfunction with the despinning mechanism -- were ruled out on the basis of images from the camera.
The success at RockSat-X means that the testing phase of the project is now done and the time has come to put the system to work and see its abilities, Smith said. The next step is for the project to be flown into space and placed into orbit. That is expected to happen with a NASA launch in the winter of 2017.
"We're hoping for a three month mission – but we're going to plan for a lot longer," he said.
According to Schrenk, the project demonstrates how powerful results can be achieved through system engineering principles, even with relatively simple equipment.
"We were able to build this payload – designed by students and built by students – and then get images from a $30 camera at 95 miles above the earth. That's pretty incredible, getting a keychain camera to work at that altitude."
"By following the systems engineering process, we've been able to go from balloons to rockets and now to a orbital launch," he said.
PHOTO: Ryan Schrenk (left) and Pierce Smith.