Look around the room you are sitting in. Is there a device that uses electricity near you? Electrical engineers are the power behind every machine, and in our technology driven world that means big money. Electrical engineering is one of the top ten highest paying engineering fields in the industry according to Best Colleges Online and the need for these types of engineers is expected to grow as technology evolves.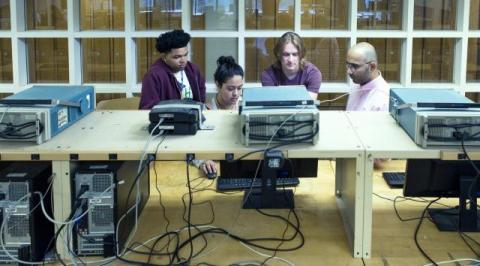 Most people know that engineering is a lucrative field, yet one of the top most searched questions on Google regarding electrical engineering is, how much does it pay? People want to know if their education is worth the return on investment, and we are here to tell you that it is. Don't take our word for it though, just look at the numbers.
Salary.com says that the average electrical engineer salary falls between $64,330 and $74,838 per year. Those numbers are nationwide and according to them, "salary ranges can vary widely depending on many important factors, including education, certifications, additional skills, [and] the number of years you have spent in your profession."
The chart below from the Bureau of Labor Statistics provides a more accurate regional assessment on salaries. In the Maryland and D.C. areas, where Capitol Technology University is located, the annual mean wage of electrical engineers was actually between $103,260 and $116,310 when this survey was taken two years ago in 2017.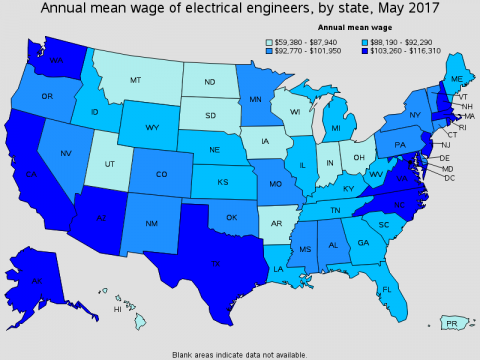 Demand for electrical engineers is also expected to rise. The Bureau of Labor Statistics predicts that electrical engineering jobs will grow by 9% leading up to 2024.
This rough estimate was made in 2014, before technology like unmanned systems, artificial intelligence, robotics, and electric vehicles were expected to grow as much as we now believe they will five years later. Electrical engineers won't just be crucial to cutting edge projects, but to assisting with the adaptation of critical infrastructure across our nation as we become more reliant on technology. Think of all the changes that could happen in a major city between now and 2024. The way we power our lives is changing and electrical engineers are going to need to be there as we move forward.
The electrical engineering (EE) program at Capitol Technology University is by far our most comprehensive. Our program is a blend of theory and practice directed at engineering design, rather than research.
To learn more about our programs in electrical engineering please click here. Capitol also offers a variety of certifications that may help advance your career.