10…9…8…
Cactus-1, a cube-based satellite (CubeSat) built by Capitol astronautical engineering students is approaching the final countdown on its build stage. Students are making one last push towards a completed build to get Cactus-1 ready for testing and flight.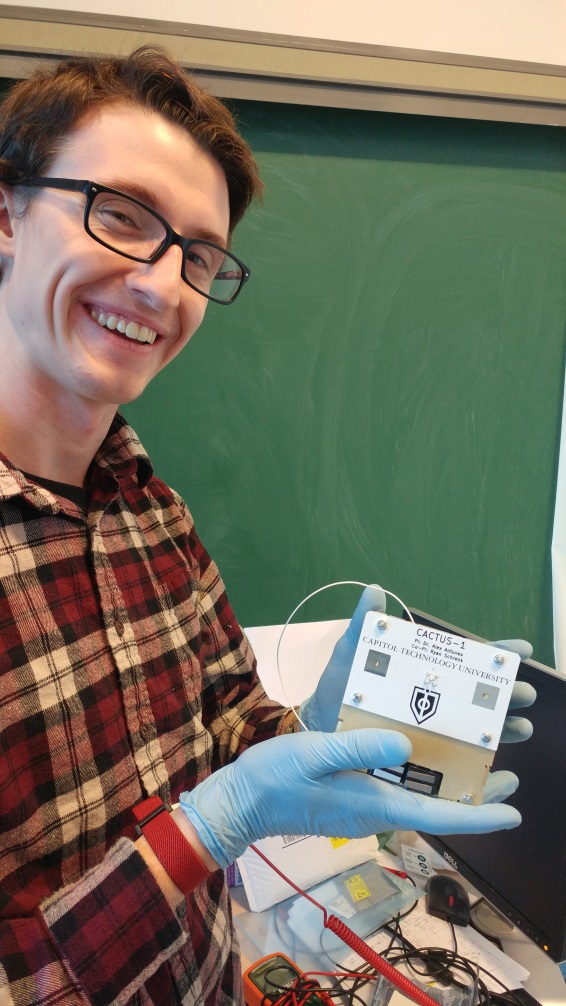 "We are in the final crunch. Rather than drawing it out forever we are doing a full advance," said Dr. Alex "Sandy" Antunes, the project mentor. "Our delivery is scheduled tentatively now for August, which means that we have to finish up testing in May and ship in June."
"All flight boards are wired off for real. We're building two that are slightly different. The one that tests the best, we fly," he said.
The hope is high for the Cactus-1 project, which is experimental in some never-before-tested ways. It is the first CubeSat to include two satellites attached together, one science-based and one communications-based, carrying a unique communications system, which uses the web rather than radio signals. The mission could prove ground-breaking for CubeSat and space technology.
Cactus-1 is part of the CubeSat Launch Initiative (CSLI), established by NASA as a way to provide CubeSat projects with deployment opportunities. In 2015, Capitol became one of fourteen universities, non-profit organizations, and NASA field centers chosen to participate in CSLI. Cactus-1 is expected to fly aboard a Virgin Orbit Launcher One rocket, designed for sending small satellites into space via a high altitude launch from a carrier aircraft.
As one of several selected CubeSat's, the Cactus-1 team is under immense pressure to meet the safety standards for the launch. "It is under a category we call 'do-no-harm'. So we have to make sure that we send something that, in the shake, rattle, and roll of launch, is not going to throw a bolt that knocks out someone else's payload. We have to do a lot of testing for that," Antunes said.
In spite of the pressure, the rigorous testing, and all of the challenges involved, the students working on the project are optimistic and excited.
"I was actually scared that we weren't getting anything out of it," said communications lead, Mark Horvath, "but it actually looks like we're getting some good signal."
Students like Horvath are doing masters-level work on the Cacutus-1 project, learning new technology which often comes with no specific direction.
"Knowing what you know now, would you still have signed up to work on Cactus?" Antunes asks Horvath.
"I think the real question is: if I could do it over again would I? And I would," said Horvath.
When Cactus-1 does get to space, Antunes says, "we are hoping to get a couple pictures a day. A couple pictures a day for 2 weeks would be excellent, that would prove that it works and it gives us some information. If we can get a couple pictures a day for three months, we have a possibility of doing science. If we can do more than two pictures a day, or it last longer, up to two years, we have even more we can do scientifically."
"We're hoping for the proof of concept that it works as a payload, and then the more data you can get, the more possibility of actual scientific measurement on debris in space. Then there's the last part of it. If it lasts more than three months we can start experimenting on it. We can start saying, well let's start pushing the limits, let's try different command modes, so we can turn it into an educational satellite and let other people here at Capitol experiment with it."