The rolling hills and forest scenery of central Maryland are at their most spectacular in October – and what better time to enjoy a golf outing with friends or colleagues?
Continuing a much-loved tradition now in its 11th year, Capitol Technology University is again inviting golf enthusiasts at any skill level to enjoy a day on the links in support of a great cause. The annual Scholarship Golf Tournament will be held on October 15 at The Woodlands, and registration is now open!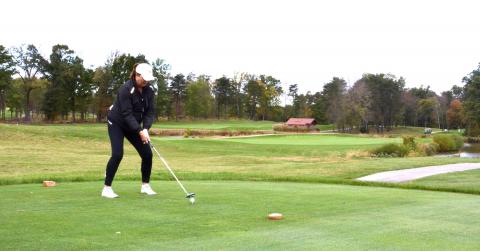 Each year, the tournament brings together alumni, benefactors, and other members of the wider Capitol community in an enjoyable day of golf and camaraderie, with proceeds going towards supporting students financially as they strive to realize their academic goals.
"The intention is to draw together alumni and friends of the college for a fun day of golf while also raising funds for scholarship support," says Vice President for Student Engagement and University Development Melinda Bunnell-Rhyne, whose office is organizing the event.
 "The fund has supported two to four students each year since the tournament started, and allows students who have merit to receive additional support as sophomores, juniors or seniors."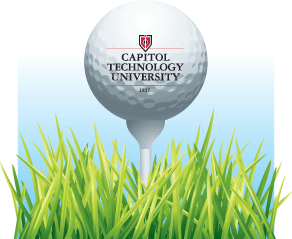 Bunnell-Rhyne said the annual tournament is always a memorable occasion – not only because of the opportunity golfers have to test their skills, but because of the friendships that are built and the connections that are made.

"It's a lot of fun for the players, and also for the non-players that come out and have lunch with us. The tournament sponsors really enjoy seeing people out on the course and supporting scholarships. It's a great opportunity to meet fellow alumni or to meet organizations that support Capitol and talk about how your interests align with their interests," she said.
This year's tournament location, The Woodlands, has been hailed by Washington Golf Monthly as "the best public course in the Baltimore suburbs."  Lindsay Ervin, a leading golf course architect, designed the course, which opened in 1998. According to Ervin, The Woodlands "truly ranks as my best design."
The scholarship funds raised by the tournament help students with academic merit realize their full potential while being less constrained by the financial burden of higher education, Bunnell-Rhyne said.
"Scholarships are vital to students," she said. "They help students to control the cost and lower their debt leaving college. That enables them to be on a stronger financial footing when they go out and start their careers and raise families."
Registration costs cover not only the greens fees and equipment, but also a continental breakfast, lunch, and beverages on course. Each participant will receive a golf shirt marking the occasion, along with a sleeve of golf balls bearing the name of the university. An awards ceremony will be held after play is concluded. Follow this link for a printable registration form. To become a tournament sponsor, click here. For more information about the event, send an e-mail to golf@CapTechU.edu.
Capitol Technology University is the only independent college in Maryland dedicated to engineering, computer science, information technology and business. Founded in 1927, Capitol is an accredited institution offering associate, bachelor's and master's degrees, a doctorate in information assurance, as well as professional development training and certificates, and partnerships with government and industry.
Capitol is designated as a National Center of Academic Excellence by the National Security Agency and Department of Homeland Security. The college is located in Laurel, MD, a suburban setting midway between Washington, DC and Baltimore. Capitol is committed to providing a quality education that is technology-driven, accessible, affordable and practical.