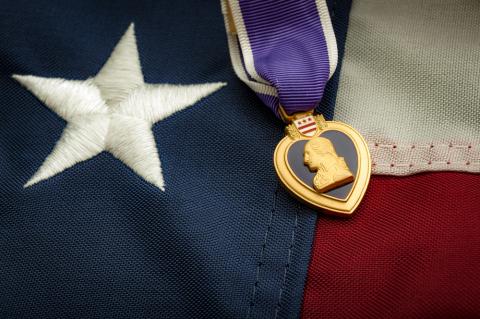 It is an occasion to reflect on service and sacrifice, and to honor those who have given their lives or sustained injuries while defending the United States. Each year, on August 7, Purple Heart Day is commemorated.
On this day in 1782, General George Washington issued a historic order from his headquarters in Newburgh, New York.
"The General…directs that whenever any singularly meritorious action is performed, the author of it shall be permitted to wear on his facings over the left breast, the figure of a heart in purple cloth, or silk, edged with narrow lace or binding," Washington commanded.
"Not only instances of unusual gallantry, but also of extraordinary fidelity and essential service in any way shall meet with a due reward," he wrote.
Today, the Badge of Military Merit established by Washington is known as the Purple Heart. Revived in 1931, on the 200th anniversary of Washington's birth, the decoration is awarded to those who have died or been wounded while serving.
"Most Americans know what the Purple Heart is, but not everyone is familiar with the history of this decoration," said Dr. Bradford L. Sims, president of Capitol Technology University. "This is a tradition that goes all the way back to the founding of our country."
Gratitude to the nation's servicemen and women is keenly felt at Capitol, Sims said. "One of the things I am proudest of is our repeat designation as a military-friendly university," he said. "Supporting our soldiers and veterans and providing them with avenues of opportunity in higher education is very much what we're about."
An estimated 1.8 million people have been awarded the Purple Heart since its re-establishment. The youngest recipient in history was 12-year-old Calvin Graham, who died in the Pearl Harbor attack.
As for the original Badge of Military Merit, one of the three known cloth-and-silk decorations bestowed by Washington can be seen at the National Purple Heart Hall of Honor, in New Windsor, N.Y.
The branches of the armed services each took to social media to issue statements commemorating Purple Heart Day and commenting on its significance.
"Today is Purple Heart Day, which recognizes not only the merit but more importantly the men and women killed and wounded in combat who have earned the badge of honor," the US Army wrote.