Q&A with Connie Harrington, Associate Director of Career Development and Employer Relations
Career services is about more than helping students write a resume or land a job. At Capitol, the overarching goal is to help students discover themselves, enabling them to go out into the world confident, prepared, and ready to take on any challenges that stand between where they are and where they are going.
Graduation from college can be daunting. After several years of being mentored in an environment that for many becomes a second home, students are released, left to figure out the rest of their lives. What a tall order. To complicate things further, the career industry is constantly in flux. Employer needs change. Systems change. Society changes.
In April 2019, Capitol welcomed Connie Harrington as Associate Director of Career Development and Employer Relations. Connie, a seasoned professional, leads Capitol's career services efforts. She is the resource who stands in the gap for our students.
In the following interview, Connie shares her story, including her journey from a graphic arts major in college to the present – clearly a non-traditional path, but one that Connie wouldn't go back and change even if she could.
Q:  Welcome to Capitol. What are your initial impressions of the university? Has anything surprised you during your first two months?
CH: I am impressed by how quickly things are accomplished here, despite the fact that Capitol is a small school. Often, at larger schools, there is a lot of red tape, delaying implementation of projects and processes. Capitol is nimble because of its size and accessibility. People's thoughts are heard and welcomed.
Q:  Where is home for you?
CH:  I was born in Maryland, but I grew up in Illinois. I moved back to Maryland several years ago to help take care of an ill family member but missed the up-and-coming suburban communities in Illinois. Now that I'm older, I appreciate Maryland's vast history.
Q:  What trends do you see in the career industry? Any changes of late?
CH: With the increase of technology, a lot of companies put applicants through an automated system. These systems are designed to push people out, and it becomes more difficult to get in front of an employer for an interview. Years ago, word of mouth was an option, enabling individuals to get hired based on a positive recommendation. These days, even with a recommendation, employers will ask you to apply online.
One of the growing trends involves resume formatting. A summary and key skills section is becoming the standard. This section is important for keyword searches through an automated system. Even with the desired skill set, an applicant can get kicked out of the system without having certain keywords identified upfront. In my role, I teach students to build their resumes this way.
Q:  One of the big questions that surfaces when talking to students is do I follow my passion or follow what pays when choosing a major? How do you answer?
CH: I try to find out from students what it is they want to do. Typically, if they are unsure of their career path, I have them take an assessment test that measures their predominant and secondary skills, as well as values and interests. Students may unknowingly pick something in their secondary skill set that they are good at doing, but not necessarily what they really want to do for their career.
I once advised a student who accepted a position in medical sales. The problem was that he didn't like sales. At this point, money was no longer important to him. Later, when he took the assessment, we discovered that sales was in his secondary skill set and interest.
My goal is to help students find out beforehand so they choose majors that fit their skills, interests, and values. There are always majors that fit. All it takes is research to find out what those areas are and what career paths match. If a student chooses a career in an area that doesn't pay well because of a passion, usually money is not the focus.
It's also important for students to realize that industry often determines salary. There can be a very wide range even within a single field. It's possible for students to have both – a well-paying career and one they are passionate about – based on how they plan.
Q:  What question do you get the most from students regarding life after college? Any questions that surprise you?
CH: It's more of a comment. Students wish they would have used Career Services before graduation. When they come and see the resources we offer, which for some students happens close to or after graduation, they see how much they would have benefited. These students were under the impression that the office is only here to help with their resume. Eventually, they learn that our office is designed to guide them through the entire process – networking, interviewing, negotiating, and much more.
Q:  What has your career path looked like? What led you to career development and employer relations?
CH: My career path has gone through everything that any given student can go through. Everything. That's why I can be helpful to students who come with various needs and challenges.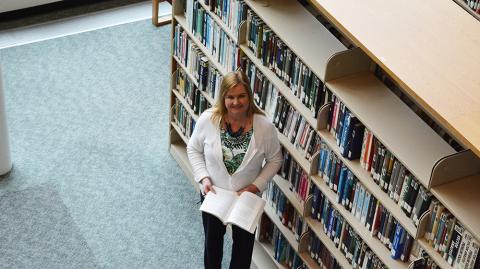 In college, I was a graphic arts major and a communications minor. By chance, I secured a student worker job in human resources. I was good at it and received a job offer when I graduated. Career management was part of human resources at this time. My career would lean on one side or the other, depending on the position. Really, if you think about it, the difference is simply sitting on the other side of the desk.
I have been everything you can think of. A student not knowing what to do. A young professional searching for a job. A hiring manager. A career manager. A freelance consultant, who has helped clients with everything from career planning to launching a new business.
I know what employers are looking for because I have been on all sides of the table at the management level.
Q:  Can you share a mistake you made early on in your career and how you bounced back from it?
CH: In general, it's important to stay current with the changes in your industry. Things shift based on what's going on in the world, especially with technology. I have seen people become obsolete when the model they use is no longer current.
Personally, I found that when career services moved under the counseling umbrella, a master's degree increasingly became a requirement. You have to be willing to continue to learn new things to avoid becoming dated. Now, one of my goals is to obtain a master's degree.
Q:  What advice would you give to your 18-year-old self?
CH: I don't know if I would change anything. Without my journey and all of the challenges and triumphs, I would not be the person I am. Experience makes you wise.
I would tell myself and all of the 18-year olds, I would say, everything will work out. If you find something you like and are on the right track, things just happen to come together in time. You don't have to feel like you have it all worked out to be on the right path. The journey is just as important.
Q:  What inspires you?
CH: I am inspired by other people. Everybody can teach you something. Sometimes, people think that a young person, for instance, doesn't have much to offer, but you can still learn something. When you're younger, you often have to prove what you know, but the potential is there. It can be as simple as my nieces and nephews teaching me something about technology. There is always an opportunity to benefit from what other people give you.
Q:  What's one thing most people don't know about you? Any hidden talents?
CH: Earlier, I mentioned my graphics background. This skill is not typically found in my career field, but I use it a lot. It's applicable to every position. Graphic design is one of my secondary skills, and it makes my work stand out. If an event poster is needed, for example, I can design it myself or explain to the graphic designer what is needed, using terminology of the field.
Q:  Any big projects coming up in Career Services at Capitol?
CH: My biggest project right now is planning for the upcoming Career Conference in October. I'm also working to shore up career outcomes data and to streamline the online platform for accessibility and consistency, allowing employers and students to connect easily, using a virtual process.