One of the surprising things about watching a rocket launch from a distance is that you see it before you hear it, says Capitol student Christel Gesterling. On the morning of June 25, she and fellow student Amanda Raab were on hand to see a NASA suborbital sounding rocket lift off from the Wallops Flight Facility in Virginia.
"We were about 1200 feet away," Gesterling said. "You watch the rocket go up, and then about five seconds later the sound hits you. It almost knocks you over. An incredible experience."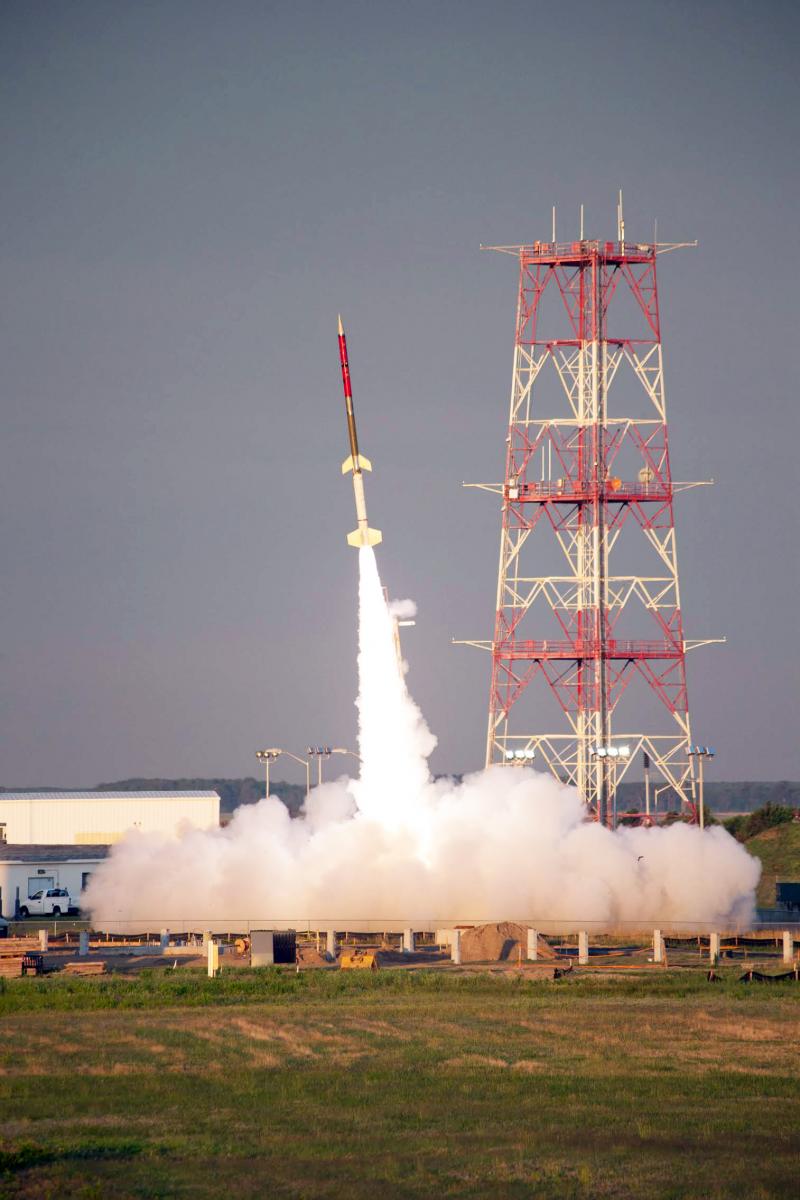 The Terrier-Improved Orion rocket carried experimental payloads built by teams of university, community college and high school students attending this summer's RockOn! and RockSat-C programs. Gesterling and Raab, accompanied by Capitol faculty member Pamela Opeka, were among the 72 participants in the RockOn! workshop, which provides hands-on training in building a scientific payload for suborbital flight.
"It was hard work, but also a lot of fun," Gesterling said of the workshop. "The first three days were basically sounding rocket bootcamp -- 10 to 12 hour days building, soldering, testing all day long. Every individual sensor was tested by itself, and when everything was put together we tested it again." Only after a long succession of tests, she said, was the payload ready to be placed in a cannister and integrated into the rocket.
Gesterling felt impressed by how systematic and thorough the process was.
"The way the task was broken down into different parts was so smart and so organized. It really taught me a lot about the architecture of how to put together a mission, not just the physical building itself, but the big picture. It was really intense, but very worthwhile," she said.
Participants were given a tour of the Wallops facility, and they also had the opportunity to learn about the next stages in the program. While RockOn! participants are essentially given a payload to build, with the instruments and coding already determined, RockSat-C gives teams the opportunity to design and build their own payloads.
A third stage in the program, RockSat X, will have its launch during August. HERMES, a student project at Capitol that aims to develop a mobile-based satellite command system, will have a payload aboard that flight.
Gesterling hopes to be back at Wallops next summer for RockSat-C, perhaps in conjunction with another student project, TRAPSat. The project, which aims to help capture space debris with the help of aerogel, has performed several high-altitude balloon tests and is ready for the next level.
"RockSat is beneficial for what we want to do, which is to move from balloon launches to space," she said.