By: Sarah Van Horn
Wanderlust: that feverish disease that grips many of us who love to learn and explore. At Capitol Technology University, our students and alumni are the do-ers of the world. Getting up and out there is often a natural instinct. We know many of you love to travel, and it made us think, where would we go?
If you love learning about new places, traveling, and science then you've come to the right place. Through our science places series, we'll do our best to travel around the world to some fascinating places that might just inspire your next project.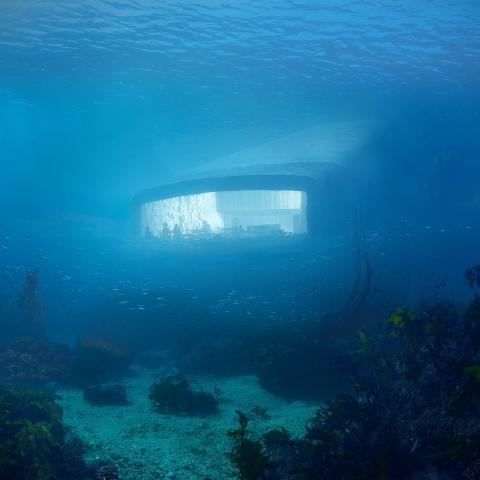 Our second stop is a coming attraction, but it's something so special we just have to tell everyone. This time we're going under the seas of Spangereid, Norway – five and half meters under to be exact. Are we scuba diving? Nope. Riding a submarine? Nuh-uh. Do I have to swim? No my friends, you and I are going out for dinner.
That's right, foodies. I see you. UNDER restaurant and marine research center opens in April of this year and is set to soon become the world's largest underwater restaurant. A seriously awesome feat of engineering and architecture, UNDER attempts to allow guests to experience an essential part of Norway that few people rarely get to see: its oceans.
A play on words, UNDER, besides the obvious under the sea reference, can also be translated to "wonder" in Norwegian. The main restaurant can accommodate 80 to 100 guests at a time. Food will primarily consist of local dishes, and yes, they are set to have some terrific sea food. Upon completion UNDER will not only be the world's biggest underwater restaurant, it will also be Europe's first underwater restaurant. It's a chance for people like me, who love the water but are just a bit too frightened by the prospect of relying on a small tube and some explosive gas strapped to their back to scuba dive, to witness all the seasons of the ocean.
This new world isn't just for me, but for researchers too. UNDER is also meant to double as a research center for marine life. Researchers are already on the site studying and even training fish to swim up to UNDER's huge periscope glass wall. It's a project that was meant to marry science and the culinary arts from the very beginning. "Our guests are given an opportunity to take in the otherwise rarely seen marine ecosystem," states UNDER's website. "The menu at Under highlights the hidden treasures of the raw beauty of the local surroundings, and the delicious varieties of the pulsing sea. Head chef Ellitsgaard and his team are preparing innovative seasonal dishes that capture the essence of the pristine Norwegian coastline on the southern tip of Norway – with its rich and abundant natural resources."
According to the website of the lead architectural & design company for the project, Snøhetta, "Informational plaques will be mounted alongside the trail leading guests to the restaurant entrance at the water's edge. This informational path tells a story about marine biodiversity and the Norwegian coast, weaving the narrative of the site into the overall restaurant experience, and ends at a ramp up to the restaurant."
Picture this. After a short boat ride we'll step of the dock: salt in the air, a light mist of foam rising up, the wind teasing at our hair. From there we'll walk the stone path, taking in bits of knowledge as we go. We'll see the entrance to UNDER, nestled amidst the craggy rocks it calls home. Walking down the steps to the main floor the scent will shift from sea to seafood as delicious dishes surround us. Arriving at our table, the view will almost out-do the prospect of food. We'll watch as schools upon schools of fish swim before us in a wild garden that only the ocean floor could grow.
It's a fantasy come to life through science and engineering. Although it hasn't opened yet, UNDER is gaining world-wide attention for its incredibly unique experience. You can book a reservation now here.
Until next time, happy travels.