Earn an Online Master's of Science in Cyber Analytics, learn how to interpret data to fight cybercrime
In an age where data is the new oil, the field of cyber analytics has surged to the forefront, offering promising career prospects for those brave enough to delve into its depths. An Online Master of Science in Cyber Analytics is a vital key to unlock this field's vast potential, providing a pathway to a rewarding and impactful career in a digital, data-driven world.
Digital Transformation and the Rise of Cyber AnalyticsThe digital transformation of our society is not a new phenomenon. Still, the unprecedented acceleration caused by the COVID-19 pandemic has highlighted our reliance on digital infrastructures. The World Economic Forum predicts that by 2025, a staggering 463 exabytes of data will be created globally each day. This vast ocean of data, coupled with the increasing sophistication of cyber threats, has led to a surge in demand for professionals with expertise in cyber analytics.
Bridging the Skills Gap with an Online Master of Science in Cyber Analytics
Despite the growing demand for cyber analytics professionals, the field is facing a severe skills shortage. According to Cybersecurity Ventures, there will be 3.5 million unfilled cybersecurity jobs globally by 2021. This gap is largely due to the field's complexity, requiring a unique blend of technical skills, analytical prowess, and a deep understanding of cyber threats and defense strategies.
An Online Master of Science in Cyber Analytics provides a structured approach to acquiring these skills. The curriculum typically covers a wide range of topics, including data analysis, machine learning, network security, and threat intelligence. It also allows students to learn and apply these concepts in a practical, real-world context, bridging the gap between theory and practice.
The Flexibility and Accessibility of Online Learning
Pursuing this degree online brings numerous advantages. Online learning provides flexibility, enabling students to balance their studies with professional commitments and personal responsibilities. This approach also widens access to quality education, allowing students from around the world to gain expertise in cyber analytics without the need to relocate or disrupt their current lifestyle.
A Future-Proof Career Choice
The field of cyber analytics is not just growing; it's evolving. With the advent of technologies like Artificial Intelligence (AI) and the Internet of Things (IoT), the nature of cyber threats is changing, leading to a constant need for innovation and adaptation. This ongoing evolution makes a career in cyber analytics particularly future-proof.
Professionals with a Master of Science in Cyber Analytics can anticipate a wide range of career opportunities. These include roles as cybersecurity analysts, threat intelligence analysts, data scientists, IT audit managers, and more. The U.S. Bureau of Labor Statistics projects a 31% increase in demand for information security analysts from 2019 to 2029, much faster than the average for all occupations.
The Online Master of Science in Cyber Analytics is a ticket to a high-growth, high-impact career in a field that is increasingly critical to our digital society. By equipping students with the skills to navigate the complex world of cyber threats and defenses, this degree prepares them for a future where data and digital infrastructures are central to our daily lives.
Now more than ever, the world needs individuals capable of translating complex data into actionable insights to secure our digital frontiers. By pursuing an online Master of Science in Cyber Analytics, you can be one of those trailblazers, forging a path in a dynamic and rapidly evolving field. The digital world awaits your expertise.
The M.S. in Cyber Analytics program builds upon students' understanding of the basic concepts of analytics as it relates to cybersecurity and prepares students to further their careers protecting customer data and defending the nation's critical infrastructure from cybercriminals and nation states alike. 
You will be challenged to master concepts and skills such as risk management, virtualization, vulnerability scanning and mitigation, system hardening, cryptography, digital forensics, malware analysis, penetration testing. Students will learn how to apply data science techniques to organization's data management challenges and security related decision making. Students will learn the basics tools, quantitative methods, and data mining techniques for effective decision making. Security Operations Center (SOC). 
Job Titles and Midrange Salaries: 
Cyber Security Specialist / Technician - $92,000
Cyber Crime Analyst / Investigator - $94,000
Incident Analyst / Responder - $89,000
IT Auditor - $98,000
Top Certifications: 
CompTIA Security+
Certified Information Systems Security Professional (CISSP)
SANS/GIAC Certification
*Source: https://www.cyberseek.org 
Why Capitol?
Our long history in cybersecurity education.
As one of the first schools in the nation to be designated a National Center of Excellence in Cyber Defense by the Department of Homeland Security and National Security Agency, Capitol Technology University stands ready to advance the field and do its part to combat one of the nation's greatest challenges.
Our location is a magnet for top faculty.
The Baltimore/Washington area has one of the largest concentrations of high-tech companies, defense contractors, and government agencies like the Department of Homeland Security and the Department of Defense. Since many of our faculty are currently working in cybersecurity, you're taught up-to-date strategies and best practices from the world's top practitioners.
Our classes are comprised of like-minded peers
Through collaboration with other students, you'll learn skills and techniques in class that you can apply on the job immediately.
Program is 100% Online
Our master's in cyber analytics program is offered 100% online. Once you are accepted, all you need is an Internet connection and you can attend class. We keep the classes small so you receive personalized attention from faculty who are interested in sharing their knowledge and helping you succeed.
Capitol Tech Opportunities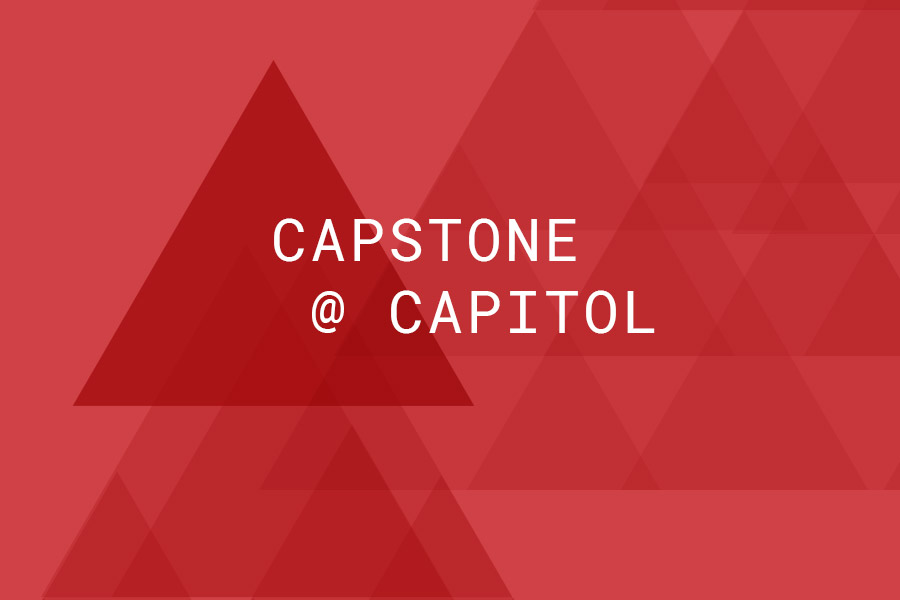 Capstone Project
You'll work with a faculty member to develop a major project-based research paper that draws on prior coursework and your personal experiences.
Career Opportunities
Market Demand for Cyber Analytics
Those who earn a master of science in cyber analytics pursue careers as:
Cyber Security Data Analytics Lead
Information Security Analyst
Chief Security Officer
Degree Details
---
Curriculum
Generally, to apply to a graduate degree program, you should have completed a bachelor's degree or be completing a bachelor's degree prior to enrollment and should have a 3.0 cumulative grade point average or higher.
Some master of science programs have additional technical competency requirements.
---
Tuition & Fees
Tuition rates are subject to change.
The following rates are in effect for the 2023-2024 academic year, beginning in Fall 2023 and continuing through Summer 2024:
The per credit charge for all other masters courses is $630 per credit hour.
The active duty military tuition rate is $350 per credit.
The retired military tuition rate is $530 per credit.
The information technology fee is $39 per credit hour.
High School and Community College full-time faculty and full-time staff receive a 20% discount on tuition for master programs.
Find additional information for 2023-2024 masters tuition and fees.