Jeff Volosin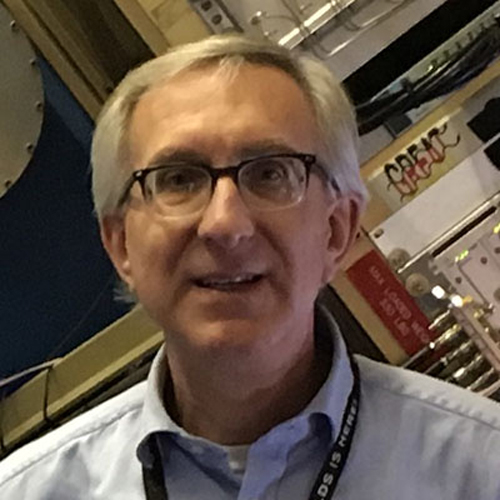 Adjunct Professor
NASA Goddard Space Flight Center
301-356-3056
jfvolosin@captchu.edu
Jeff Volosin has a 36-year career focused on the design, development and operations of NASA/NOAA robotic and crewed spacecraft. This includes 20 years in the industry and in senior leadership roles managing projects, programs, and divisions. His 16-year civil service career focused on flight project and program management, including his current position as Associate Director of Earth Sciences Flight Projects, and previous roles as Deputy Director of Astrophysics at NASA HQ and Deputy Director of Spacecraft Communications Networks. For 19 years, he has served as an Adjunct Professor with Capitol Tech in Astronautical Engineering. His areas of expertise include flight dynamics, satellite operations and communications networks, and advanced space technology maturation.
Areas of Expertise:
Spacecraft Design and Development
Flight Dynamics
Satellite Operations and Communications Networks
Advanced Space Technology Maturation
Biography:
Education
B.S., Space Science, Florida Institute of Technology (1986)
Professional Achievements
Managed the Transiting Exoplanet Survey Satellite (TESS) development effort from initial project start-up through launch and commissioning. $350M project completed under budget and ahead of schedule with 4 years of successful operations to-date.
Led NASA's Global Exploration Strategy effort. Involved leading representatives form 14 National Space Agencies in defining common goals for future Moon/Mars exploration.
Certifications & Licenses
Project/Program Manager Certification (FAC P/PM)
Federal Senior Executive
Honors & Awards 
NASA Silver Achievement Medal, 2019
Robert Goddard Honor Award for Leadership, 2019
Rotary NASA Leadership Award Nominee, 2019
NASA Exceptional Leadership Medal, 2018
NASA Exceptional Achievement Medal, 2017
Honeywell Aerospace, President's Award, 2008
NASA Exceptional Service Medal, 2007
Research & Publications
Peer-Reviewed (Refereed) Publications
"Space Mission Engineering: The New SMAD" textbook, Space Technology Library, ISBN 9781881883159, Contributing Author
<"The L 98-59 System: Three Transiting. Terrestrial-Sized Planets Orbiting a Nearby M-dwarf" AAS16416R1, Jeffrey Volosin co-author, Veselin Kostov primary author. Accepted for publicat'It's A Station Not A Ship,' July 16, 2008, Washington Post.com, editorial on the role of the International Space Station.
'Global Exploration Strategy, An International Effort,' 2006, International Astronautical Congress, Valencia, Spain
'Safety in Numbers, HTSI Approach to Planning for Leonids,' 1999, Leonids Congress, Los Angeles, California.
'An Integrated Product Team Approach to Flight Operations', 1997, Second Annual Conference on Reducing the Cost of Satellite Operations, Oxford, England.
'Shaping Up For the Final Frontier', May 1993, National Space Society, Ad Astra Magazine.
'Technology Planning for Long Range Utilization of Space Station Freedom', 1993, Acta Astronautica, Vol 30, Pergamon Press Ltd.
'Space Station Freedom, Life Sciences Research and the Space Exploration Initiative', 1992, NASA publication.
'On the Use of Space Station Freedom in Support of the Space Exploration Initiative, Life Sciences Research, 1992, International Astronautical Congress, Washington DC, IAF-92-0729.
'The Romantic Age of Interplanetary Travel Research: Birth of the Space Exploration Initiative', 1990, Goddard Memorial Essay Contest.
'Reducing the Cost of Earth Observation Missions Through Standardization', 1988, Earth Observation Symposium, AIAA Standards Department, Santa Barbara, California.
Volunteer/Service Experience
NASA Lunabotics Competition, Volunteer Judge, 2010-present
Former National Air & Space Museum Docent