Dr. Laura A. Jones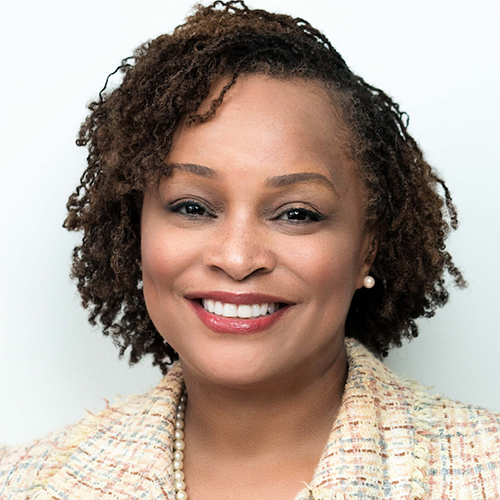 Dissertation Chair/Adjunct Professor
Hearst
Dr. Jones is an award-winning, risk strategist who helps others think strategically about the future of technology and cybersecurity, and how to address potential barriers to success. Laura also served for 10 years as a global management consultant where she developed quality assurance and risk management programs for organizations such as The Pentagon, Department of Homeland Security, Department of the Treasury and various Army agencies. In the corporate sector, Laura led the development of cybersecurity risk management programs for two publicly traded companies; a Fortune 500 company, a newly publicly traded company experiencing hyper growth in their industry and a privately held conglomerate organization comprised of over 360 businesses. She is known driving programs from conceptual framework to global execution. Dr. Jones previously served as an Associate Dean of Students for Academic Affairs. A United States Army veteran, Dr. Jones served 21 years on active duty and earned the rank of Master Sergeant/E8- before achieving an honorable retirement. Dr. Jones is an educator, speaker, author and entrepreneur. She serves as a mentor to other professionals seeking to learn more about risk management.
Areas of Expertise:
Product Management
Risk Management 

Quality Systems Management/Quality Assurance o Information Security
Biography:
Education
Ph.D. - Product Management, Capitol Technology University, Laurel, MD
M.S. - Quality Systems Management, National Graduate School of Quality Management, Falmouth, MA
B.S. - Management Studies, University of Maryland University College, Adelphi, MD
Executive Education, Artificial Intelligence: Business Strategies and Applications, UC Berkeley Haas, Berkeley, CA
Executive Education, Chief Risk Officer (CRO) Program, Carnegie Mellon University (Heinz), Pittsburgh, PA
Executive Education, Leadership Decision Making, Harvard Kennedy School, Cambridge, MA
Graduate Certificate, Cybersecurity Policy, University of Maryland University College, Adelphi, MD
Professional Achievements
The Dr. Jeremiah O'Connell Distinguished Service Award
Certifications & Licenses
Certified in the Governance of Enterprise IT (CGEIT)
Certified Information Security Manager (CISM)
Certified in Risk and Information Systems Control (CRISC
Project Management Institute-Risk Management Professional (PMI-RMP)
Project Management Professional (PMP)
Certified Blockchain Expert (CBE)
Certified Bitcoin Professional (CBP)
Honors & Awards 
21-year career in the United States Army, retired at the rank of Master Sergeant/E-8. Numerous, including:

Earned the Legion of Merit Medal for exemplary service
Lifetime membership to the 5th Special Forces Group (Airborne)
Lifetime membership to the 101st Airborne Division (Air Assault)

MetricStream. Governance, Risk and Compliance (GRC) Best-in-Class GRC Leader Award. 2019
Career Communications Group and Lockheed Martin. Women of Color in STEM Special Recognition Award. 2018
CSO50 Award Recipient. Developed a Global IT Risk Management Program (security project) recognized for demonstrating outstanding business value and thought leadership. 2018
Booz Allen Hamilton Performance Awards.
Digital Buzz Employee Spotlight. Kimberly-Clark Corporation. 2017
Quality Progress Online Magazine. American Society for Quality.
Honor: The Dr. Jeremiah O'Connell Distinguished Service Award. In honor of the graduate whose selfless commitment to the good of fellow graduate students and program continuous improvement stands as a benchmark of distinguished service.
Honor: Outstanding Team Project Award. The Master Business Project spotlight for significantly reducing the complexity of a sponsoring company's timecard process leading to an improved cycle time.
Research and Publications
Book Chapter – Handbook of Research on Multidisciplinary Perspectives on Managerial and Leadership Psychology (Chapter 6). 2021
Doctoral Research Study. Reputation Risk and Potential Profitability: Best Practices to Identify and Mitigate Risk Through Amalgamated Factors. 2020. ProQuest
Book. Cyber Ky and Tekkie Guy Talk about Cyberbullying. 2021
Book Cyber Ky and Tekkie Guy Manage the Risk of Being Online. 2019
Organizations & Affiliations
Information Technology Senior Management Forum (ITSMF)
Volunteer/Service Experience
Risk Board, Member. RiskBoard.org
Senior Advisory Board Member, L.E.A.D.S. Program, Benedictine University
Malcolm Baldrige National Awards Examiner
ISO 9000 Users Group and Performance Excellence Special Interest Group, ASQ Washington DC & Maryland, Section 509
Portfolio/Personal Website