Nicole Patton wears multiple hats, and she wouldn't have it any other way. As an IT manager for Lockheed Martin, she manages a $3 million budget and leads three different teams: one that manages nationwide e-mail support services for a government client, another that's responsible for software development, engineering and packaging, and a third that provides on-site support for executives and staff in the DC area. She also investigates new technologies that can potentially help the client – the Department of Housing and Urban Development – enhance and streamline its operations.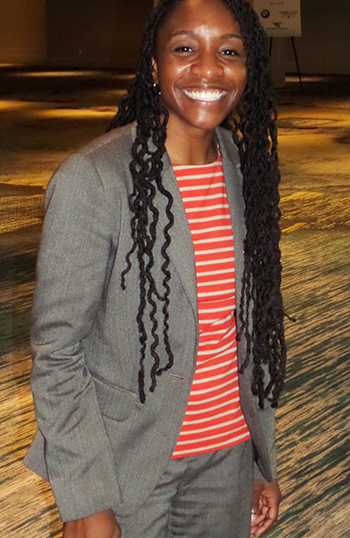 Taking on varied roles is a natural for Nicole, and it reflects her lifelong interest in combining a technology focus with a people-centered approach.
"I just like interacting with others," she says. "And I'm doing it in a technology environment, which I love. I'm always researching the technology that we can use to help the customer, always looking for new technologies that my staff might be interested in."
Her desire to blend the two is a big part of the reason why she attended Capitol Technology University, receiving her B.S. in 2007. She knew she wanted to do something involving computers, but she didn't want her education to be focused narrowly on machines and coding. She was interested in the human factor as well.
Most schools at the time didn't offer programs that bridged the two domains. Those with an interest in computers studied Computer Science and learned to become master programmers. Those interested in managing teams got business degrees.
Capitol, however, offered a degree in Management of Information Technology (now renamed Management of Cyber and Information Systems). After Nicole looked into the specifics, she decided this was the program for her.
"It was a way for me to stay in the middle and learn both business and technology. Once I started taking classes at Capitol and experiencing the technology side as well as the management side, I found the program was indeed the right fit for me. It was exactly what I'd been looking for," Patton said.
"Many of the management courses I took were geared towards specific needs," she said. "They were focused on being able to manage change and do it successfully. Whether in economics, marketing or organizational behavior, the classes offered that focus: here is technology, here is how technology can help organizations advance, and here is how you manage the process. I found that fascinating. As a technology manager you're not doing the same thing over and over; it never becomes mundane or boring, You're always trying to use technology to your advantage and stay abreast of trends, acquiring new tools and finding ways to manage them."
Supportive professors "make all the difference"
Patton remembers Dr. Helen Barker, now Capitol's dean of business and information sciences, as being especially pivotal to her success in the MIT program. "She was instrumental in getting me excited about my career path – she taught classes based off her experiences and made me feel inspired. And she wanted me to succeed. Having a professor like that who is willing to support you, no matter what you go through, can make all the difference. She's been one of my favorite professors that I've had at the school."
Also of vital importance was the writing class she took with Laura Dickinson, a former English professor at Capitol. "Communication skills are highly important for a manager," Patton said. "You have to take very complex things and make them simple, in order to explain them to a plethora of people. Professor Dickinson was very hard on me, correcting my grammar, punctuation, use of slang in my writing, overall presentation – all weak areas for me. She was able to turn all that around. And I'm a better writer and communicator because of her."
Based on her experience both as a student and as a professional, Patton has advice for those who are beginning their Capitol journey. "Get involved," she says. "Capitol may be small, but it has a lot of great organizations, such as IEEE or NSBE. As a manager, I look for people who are very diverse, who know a little bit about everything, who have had a variety of experiences. They have that much more to bring to the table. I'd also recommend getting a student job. The first job I ever had was at Capitol, in the distance learning center, and it taught me many of the skills that I'm using today."

"Internships are also important. A lot of companies, looking at your resume, will tell you 'okay, you have a degree, but what experience do you have that comes with it? What have you done?' Don't limit yourself, don't pass up the chance to learn something new, don't be afraid to take risks. I've taken several, and they all worked out in my favor," Patton says. "Have a good talk with yourself  and say I can do this, no matter how hard it gets."