Alongside his academic work at Capitol, astronautical engineering graduate Ryan Schrenk founded what has become one of the most notable student-led projects in the school's history. TRAPSat, now in its fifth semester, has been experimenting with innovative ways to trap space debris; it is now part of the university's CACTUS-1 project, selected for launch by NASA in 2018 as part of the CubeSat Launch Initiative (CSLI). Schrenk, who returned this fall to begin his master's degree, continues to be closely involved.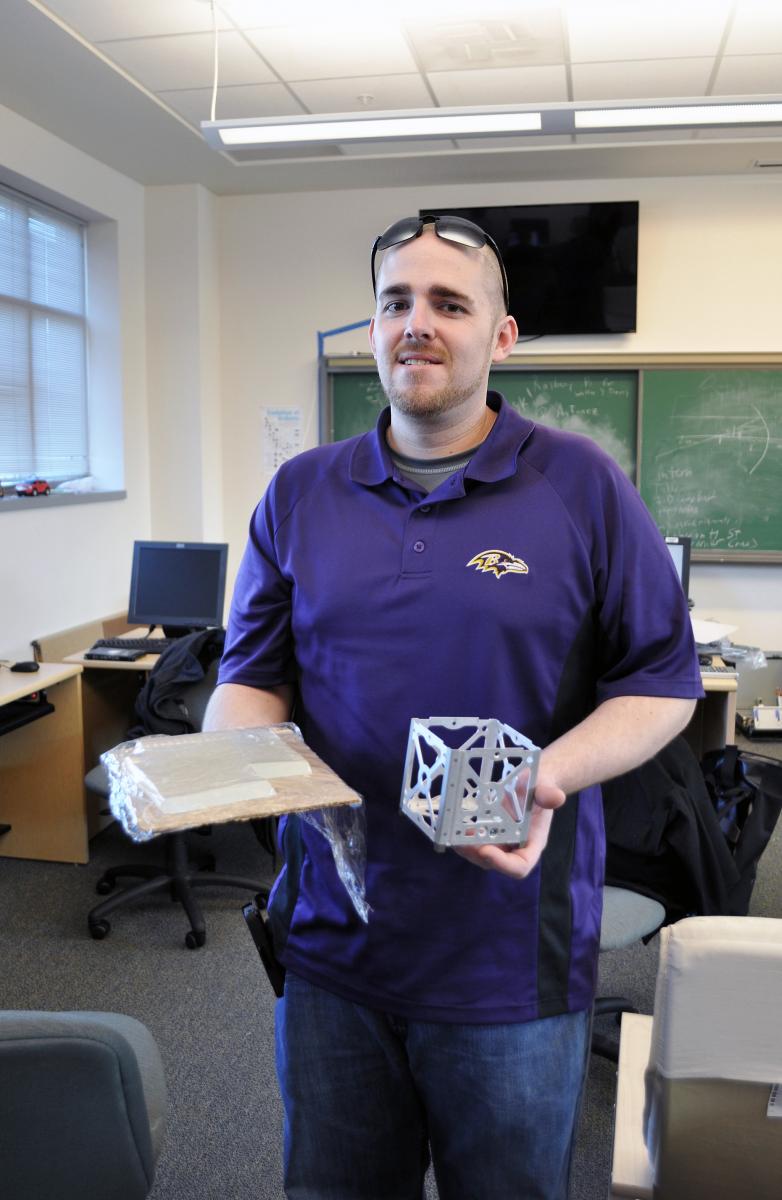 We spoke with Schrenk about the initial impetus for TRAPsat, how the project got off the ground, and some of the challenges that it has faced, as well as his overall experience at Capitol and what makes the school distinctive.
How did you first become interested in astronautical engineering?
When I initially came to this college, I intended to study electrical engineering. I attended a meeting of the VelcroSat organization, however, and I realized they were posing a very interesting challenge:  how to address the problem of space debris. And no solution was being presented.
I kept attending meetings and thinking about this awesome challenge. I saw a TV documentary that discussed aerogel and how it interacted with space debris in the space environment, and this really inspired me.  I became enamored about space and wanted to learn all about it.
And this led you to become one of the guiding forces behind TRAPSat?
I would consider myself the originator of the TRAPSat initiative; since then, however, there have been so many other brains behind it. Currently, there are two leads running the project, there have been about five leads on the project since it started, and around thirty students involved; at least seven senior projects have been done on it.
It's an amazing project, carried out entirely by volunteer students doing it on their own time, working to make people aware of space debris and the problem that it poses, and trying to give back to the community while learning and gaining expertise along the way. It's a great way to build experience before landing a job.
How did this project get off the ground? How did it move from conception to realization?
It started with a cardboard box model of how a solution might work. Professor Angela Walters, chair of the AE department, was impressed with the idea and suggested putting together a small team and trying to build it. Mikus Bormanis, CJ Giovingo, Travis White and myself created the first iteration and since then it just keeps getting bigger and better every year.
What are some of the challenges that you and your team ran into during the early days of the project?
Anything you can think of: power failures, issues with microcontrollers and microprocessors, images that weren't clear enough because the focal lengths were so small, being able to remove the aerogel after a launch, moisture from clouds. So many things.
What are your future plans?

I'm planning on finishing my master's here and then hope to move on to NASA and manage projects in the future.
Why did you choose to attend Capitol? What is distinctive about this school?

At first, it was by accident – I'd never heard of it! I ran into a recruiter at the mall who convinced me to check it out. And when I came here, I knew this was the place for me. As a physically challenged individual I knew this campus was the right size.
The people here truly care about you. It's not a front they put on during Career Day or recruitment events. They want you to succeed, they want you to make the best of your time here, and they really make sure that you do.
I don't believe I would have been as successful at any other university. I have learning disabilities and all kinds of health disabilities, and can't physically make it at bigger schools. This school has always been there to make sure I succeed. All of my dreams have come true here: I've been able to work with satellites, I've been able to work with rockets,  I've learned all about orbital mechanics, orbital sciences, and I'm now focusing on being an orbital degree specialist. I absolutely love it.