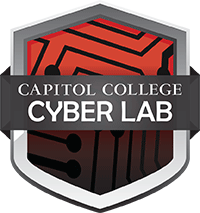 A high-altitude balloon launch during the spring brought initial frustration for members of a student-led research team, followed by elation as a cross-disciplinary effort yielded positive results.
The team has been collaborating on a project dubbed TRAPSat, aimed at capturing space debris with the help of tiny satellites – or "cubesats" – equipped with aerogel. The April 12th launch was an important milestone, providing an opportunity to test the system and troubleshoot any problems that arose.
When the team recovered the cubesat afterwards, they were dismayed to find that a memory card that was meant to store images captured during the launch was seemingly empty.   
"Our electronics returned no data at all," said team member Mikus Bormanis. "We weren't sure we could classify our mission as a success."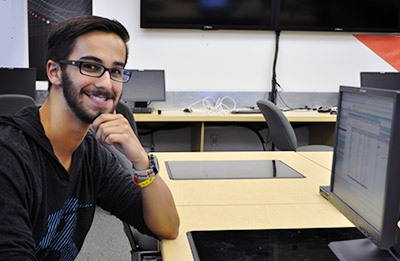 But researchers had an extra asset at their disposal – one that would make all the difference. Only a short walk away, information assurance students were busy honing their skills at the school's Cyber Battle Lab (CBL), one of Maryland's premier facilities for real-time cybersecurity training.
Bormanis and his colleagues wanted to know there was a way to recover some of the lost data.  To find out, they asked Stephen Johnston (in photo, below), a senior in the IA program at Capitol.
In about an hour and a half, he was able to retrieve 238 images from the card, using what he describes as "standard digital forensics techniques."
"They gave me the SD card, and I plugged it into my computer and captured an image of the card so I could work with that and recover files from it. I ran a forensic data recovery tool to look through the card at a low level and find any files that might have been deleted or corrupted and try to recover them," he said.
The specific method used, known as file carving, is taught in IAE-402, a digital forensics class offered at Capitol that is a standard part of the information assurance program. "The class taught me how to do all of that. It's something that everyone here who has taken that class knows how to do," Johnston said.
College provides avenues for collaboration
According to Dr. Alex "Sandy" Antunes, an astronautical engineering professor who has mentored TRAPSat and numerous other programs, the April glitch provided a case study in the benefits of collaboration across different fields of research.
"The mission had data loss, and so it would have been a failure from a scientific point of view – except that we happen to have this resource known as the Cyber Battle Lab," Antunes said. The students, he noted, were able to simply walk down down the hall of the McGowan building on campus and confer with their IA peers, who immediately understood the problem and were able to offer a solution.
"You can only do this if you have multiple departments working together and are geographically close, with collaboration among students in the respective programs," Antunes said.
Thanks to the recovered images, the TRAPSat researchers were able to confirm that the camera on-board had functioned properly and that the glitch had not been due to a temperature problem. That, in turn, demonstrated that the thermal devices used on the mission had worked. The culprit behind the missing imagery? A loose cable.
The student researchers were also able to observe how sunlight impacted the quality of the photos, a factor which they plan to address in subsequent work.
"We're informed about what we need to do in the next design," Antunes said. "And we wouldn't have known that if we didn't have the data. It saved us one flight."