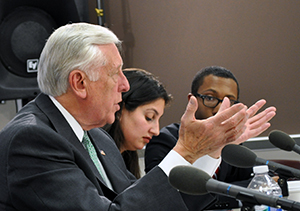 Rising costs are pricing many prospective students out of the higher education system at a time when the United States cannot afford to waste their potential, U.S. Representative Steny Hoyer (D-MD) said on Thursday (April 2) during a roundtable discussion at Capitol Technology University in Laurel, MD.
Hoyer, the House Minority Whip, met with student representatives from area colleges and universities and heard their views about the costs of education. He expressed deep concern about the financial burden being placed on today's generation of students.
"When the Pell Grant was first adopted, it replaced 70% of the tuition cost," Hoyer said. "Now it's closer to 30-35%, if you're lucky. My family didn't have the ability to contribute to my college at all…but college was cheap enough that I could pay for it just by saving and working."
Higher education is becoming less accessible at a time when global economic pressures have made it more important than ever, Hoyer said, describing an educated workforce as vital to America's continued growth.
Roundtable participants engaged the congressman in a lively discussion on topics such as the difficulty of juggling work and studies, lack of financial support for non-traditional or returning students, the increased need for practical or vocational training, and President Obama's proposal to make community college tuition free for qualified students.
"I implore you to support that bill," one student said, referring to the Obama plan.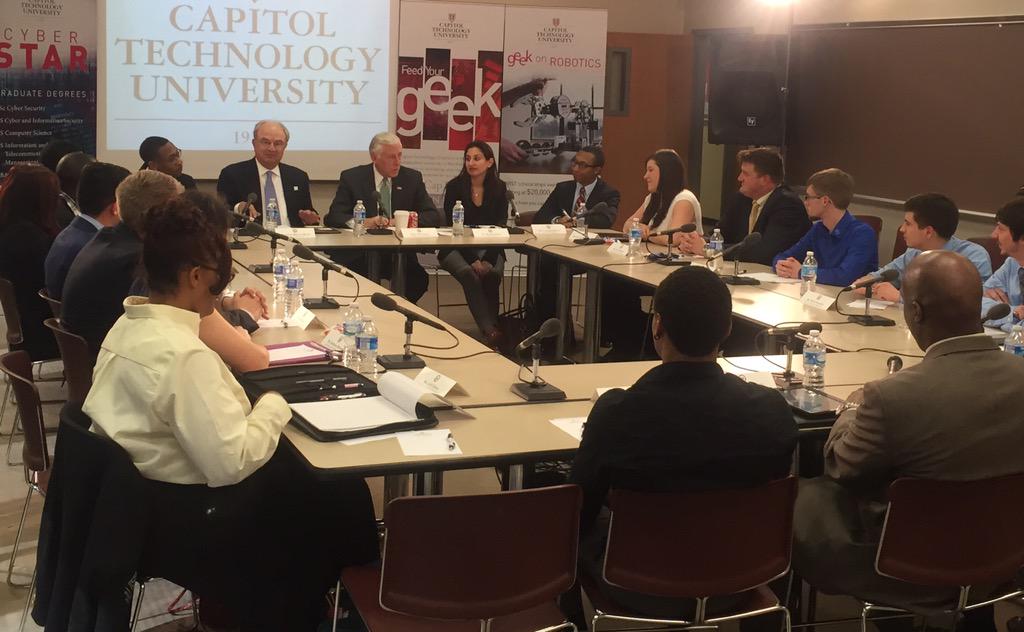 The group included student government leaders from the University of Baltimore, UMBC, Saint Mary's College, UMB, University of Maryland College Park, Prince George's Community College, Bowie State University, the College of Southern Maryland and Anne Arundel Community College, among other institutions. Representatives of college newspapers were also present. Click here to view C-SPAN coverage of the event.
The roundtable began with remarks by Dr. Michael T. Wood, the president of Capitol Technology University, who welcomed the group of students.
"We're honored and delighted to host this conversation with the Congressman where you can share your ideas, thoughts, concerns and issues concerning higher education, that can help the congressman shape policy for the United States of America, as well as for Maryland," Wood said.
It wasn't the first time that Hoyer has visited Capitol, a private, non-profit school that specializes in engineering, technology and business programs. The veteran congressman, now in his 17th term, has been to the campus several times previously.
However, this was his first visit since the school – formerly known as Capitol College – became a university in October 2014.
"This is a wonderful school with a growing breadth of coursework," Hoyer said. "It started out serving a niche, but has since grown into a full-service school. We're very pleased that it's in my Congressional district."