Featured Image:

ZeroFOX and McAfee: a "major win" for firm co-founded by Capitol alum
ZeroFOX, a company co-founded by Capitol alumnus James C. Foster, has been pioneering ways to protect against cyberattacks that come via the burgeoning world of social media. Now, in a major step forward for the Baltimore-based startup, ZeroFOX will be partnering with computer security giant McAfee.
Under an agreement announced last November, the firm's signature "attack detection system" for social media will be included in McAfee's Enterprise Security Manager. The move effectively brings ZeroFOX's technology to one of the largest customer bases in the industry.
"This is a huge win for ZeroFOX," said Foster, the company's CEO. "We are participating in the McAfee Security Innovation Alliance in order to integrate our social media threat intelligence with McAfee Enterprise Security Manager."
Together, McAfee and ZeroFOX will be helping to seal off an increasingly important point of vulnerability. Facebook, Twitter and other social media sites have become deeply integrated into many computer users' lives; along with the trend comes new opportunities for cybercrime, including malware, phishing and various types of social engineering. Existing security solutions have not fully accounted for the new arena of threats.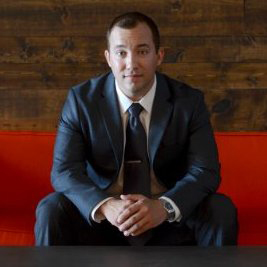 "For the modern organization, doing business in the social environment inevitably exposes you to a diversity of new business risks, from information leakage to malicious impersonations to cyber attacks," Foster said. "By integrating ZeroFOX intelligence with McAfee ESM, we are providing security teams unprecedented visibility into social media-based threats -- previously a threat vector that went unaddressed by traditional security frameworks."

"The partnership is further validation of the new social media risk management market, which we are pioneering. Aligning ourselves with a player like McAfee puts the ZeroFOX brand in conversation with some of the industry's most widely used technologies. Our goal is to be the leader in social risk management -- this partnership is a critical step in fortifying that position," he said.
Foster graduated from Capitol in 2002 with a BS in Software & Internet Applications.  He started off his career as a civilian specialist in the Department of the Navy and has since gone on to establish a succession of startups in the cybersecurity field. He has written dozens of books, given briefings to Congress, and become a sought-after keynote speaker. He gave a Career Day presentation at Capitol in 2013. Read an interview with him here.
ZeroFOX, the Social Risk Management Company, was founded in January 2013. It designs security technology "that enables organizations to detect and prevent social media-based cyberthreats, including targeted malware, phishing, social engineering, impersonations, and other fraudulent or malicious activity."
"Our proprietary Security Analysis Engine analyzes threat intelligence and visualizes alerts through ZeroFOX Enterprise, a centralized, cloud-based platform empowering users to take action on alerts and incoming threats. As the first solution to combat social media risk exposure, ZeroFOX enhances an organization's security posture, while reducing incident response and crisis communications costs," according to the company.
Date:
Thursday, January 15, 2015