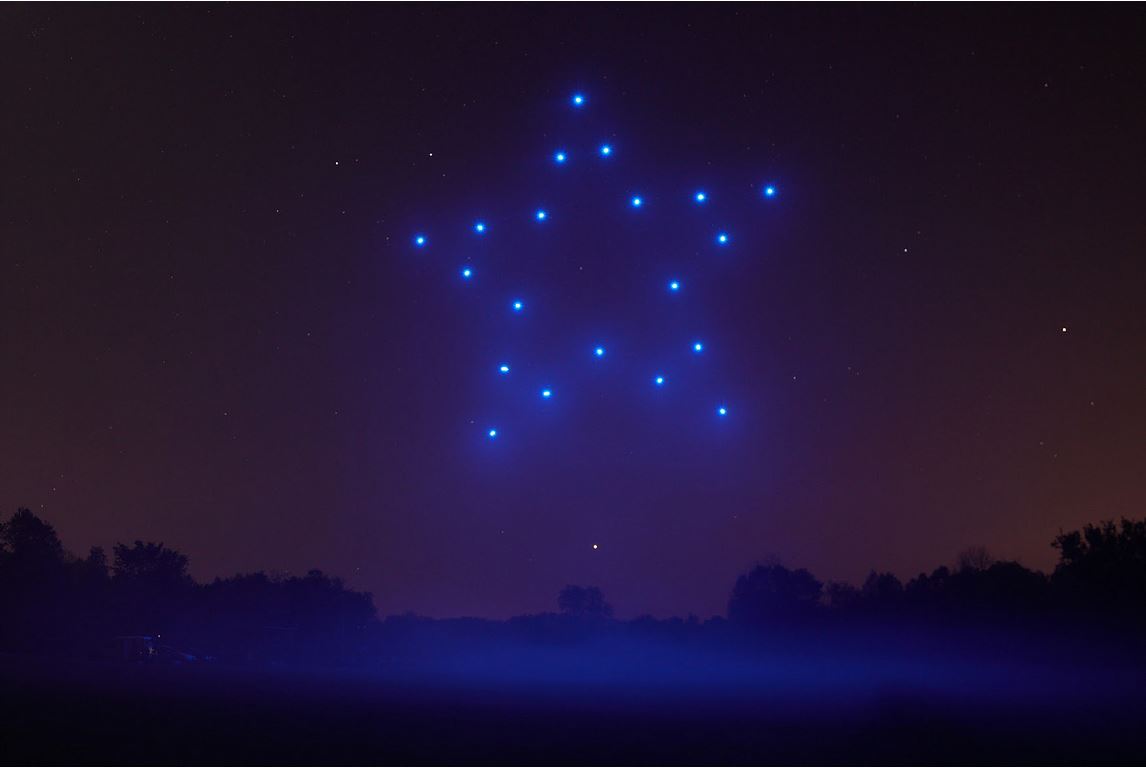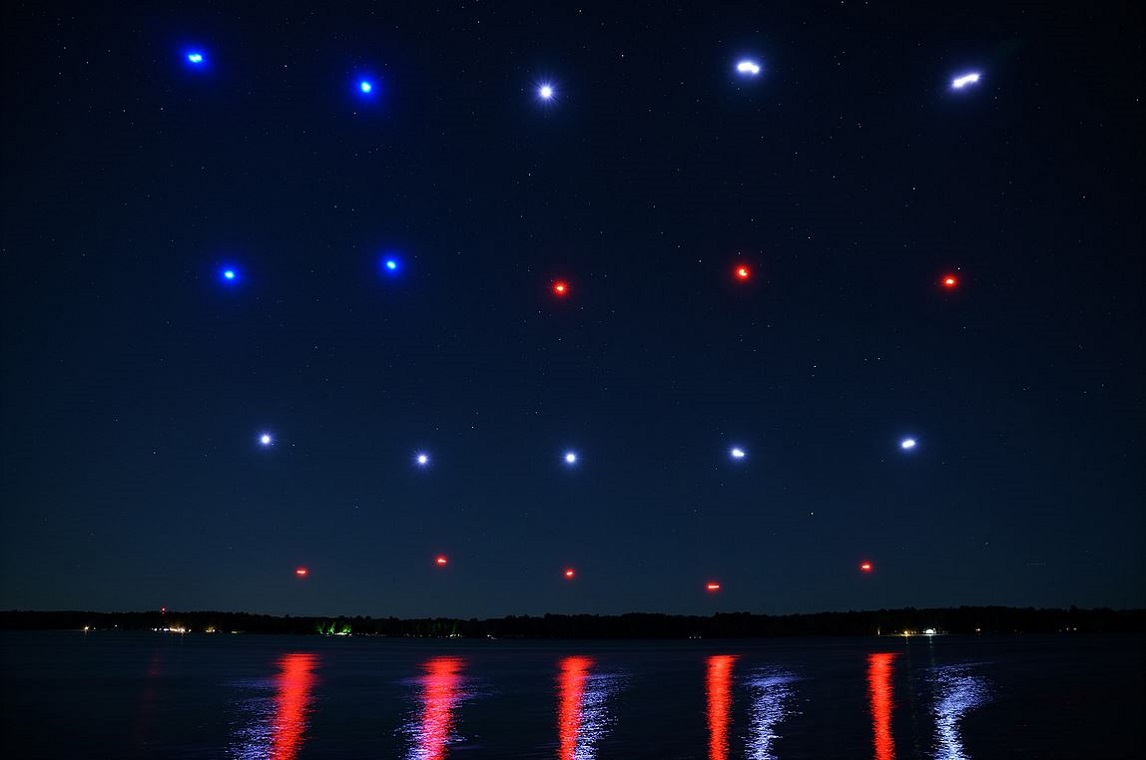 Photos courtesy of Firefly Drone Shows. Used by permission.
Fireworks are a Fourth of July tradition – and a fun part of many other occasions as well. But in areas hit by drought or dry conditions, they can pose a serious hazard.
The good news: watching a swarm of drones can also be an exciting way to cap Independence Day celebrations.
With many municipalities in Western states having to cancel fireworks displays due to the risk, some have opted to hold drone shows instead. During this year's Independence Day celebrations in Carefree, Arizona, spectators thrilled to the sight of drones illuminating the night sky, with flight patterns that created patriotic symbols. The drones were operated by Firefly Drone Shows, a Detroit-based company. (Click here to see a video clip of the show).
"With the absence of the traditional fireworks show in Cave Creek, [we] wanted to provide
residents a safe and entertaining alternative to fireworks as part of the July 4th tradition," a spokesperson for the Civana Carefree resort, which organized the event, told the local ABC affiliate.
Similar shows were planned for Aspen, Colorado and the Travis Air Force Base in Fairfield, California, although both events have been delayed due to high winds. The show at Travis is expected to take place at 9 pm on Thursday.
For consecutive years now, dozens of cities in Western states have had to ditch pyrotechnics due to hot, dry weather. If the climate trend continues, drone shows could become a long-term, high-tech replacement, says Dr. Richard Baker, who is on the faculty of a newly-launched unmanned systems program at Capitol Technology University.
"Communities are becoming increasingly aware of the ability to use swarms of drones to emulate a fireworks display," Baker said. "Lights, music, and unmanned aerial vehicles can provide an exciting and visually appealing experience that is just as grand as fireworks, though without the mind-numbing booms."
Fireworks can be costly, he noted. Each year in the United States, more than 14,000 fireworks shows spend over $340 million and use more than 25 million pounds of pyrotechnic chemicals, according to the American Pyrotechnics Association. 
Beyond the United States, meanwhile, recent high-profile events have explored drone shows as a high-tech way to add wonder and awe to celebratory occasions.
The 2018 Winter Olympics in Pyeongchang kicked off with a pre-recorded drone display produced by the Intel Corporation; a few months later, a live show at the ancient Chinese city of Xi'an drew more than 100,000 spectators.
The coming years could see drone shows becoming a new tradition in the very country where fireworks were first invented.
China – where fireworks originated during the 9th century as a method of scaring off malevolent spirits – has moved to ban them in hundreds of cities, in an effort to combat pollution, Fortune reported.
According to Baker, we can expect to see drone shows take off in a big way over the coming years, bringing economic opportunity and career benefits for a wide range of specialists, including operators, engineers, entrepreneurs, security professionals, and policy experts.
 "Cities worldwide are exploring the possibilities of replacing the explosive displays with safer drone exhibitions for cheaper and cleaner celebrations.  The growing demand for public displays using swarms of drones will provide an entirely new industry with outstanding job opportunities in unmanned autonomous systems," he said.
Interested in learning more about drones and other unmanned autonomous systems (UAVs) and preparing yourself for a career in this rapidly emerging technological field? Capitol Technology University offers Unmanned Systems degree programs at the bachelor's, master's, and doctoral level. Contact admissions@captechu.edu to find out more!