Technical Master of Business Administration in Business Analytics and Data Science
Earn an Online Technical Master of Business Administration in Business Analytics. Lead with an analytical mind.
In a rapidly evolving digital landscape, there's an urgent need for data-savvy professionals who can not only understand the language of business but also navigate the world of data science and analytics. Enter the Online Technical Master of Business Administration (TMBA) in Business Analytics and Data Science, a novel educational track designed to meet the demands of the data-driven business world.
The Age of Data
We are living in the age of data. Every click, swipe, like, and share generates data, and businesses are increasingly recognizing the value of this data in making informed decisions. According to a report by IBM, jobs in data science and analytics are projected to grow by nearly 28% by 2020. The need for data science and analytics expertise isn't confined to the tech sector. Industries ranging from healthcare and finance to retail and sports are all seeking professionals who can translate data into actionable insights.
The Power of an Online Technical TMBA in Business Analytics and Data Science
An Online Technical TMBA in Business Analytics and Data Science isn't just another degree; it's a powerful tool that equips students with a diverse set of skills. These skills include technical acumen in areas such as machine learning, data mining, and predictive modeling, along with business know-how in areas like strategic decision-making, project management, and leadership.
This degree uniquely fuses the world of business with the world of data science, offering an interdisciplinary approach to understanding and solving complex business problems. As a graduate, you'll be equipped to not just understand the data, but also to present it effectively, communicate your findings, and influence decision-making at the highest levels of business.
The Flexibility and Accessibility of Online Learning
The online nature of this degree allows for a level of flexibility and accessibility that traditional in-person programs cannot offer. Whether you're a working professional seeking to upskill, or located in a region without access to such specialized education, online learning makes this degree accessible to anyone, anywhere. Online programs often offer flexible pacing, allowing students to learn at their own speed while balancing other personal and professional commitments.
Future Career Prospects
Graduates of an Online Technical TMBA in Business Analytics and Data Science are uniquely positioned to thrive in a variety of roles. These include becoming a data scientist, business analyst, data engineer, or even a C-suite executive such as a Chief Data Officer or Chief Analytics Officer.
Moreover, organizations across industries are recognizing the value of data-driven decision making, leading to an increase in opportunities for professionals with this specialized skill set. In fact, according to the U.S. Bureau of Labor Statistics, the median annual wage for management occupations was $105,660 in May 2020, and the field is expected to grow at a faster rate than the average for all occupations through 2029.
Furthermore, this degree can also serve as a springboard for entrepreneurship, equipping you with the skills to start your own data-driven business.
In a world where data is the new oil, professionals who can harness the power of data are in high demand. An Online Technical TMBA in Business Analytics and Data Science not only equips you with the technical skills to navigate the world of data but also the business acumen to drive strategic decision-making. It's a degree that's fit for the future, and a choice that promises a rewarding career in an ever-evolving landscape. Whether you're a professional looking to upskill, a recent graduate seeking a competitive edge, or an aspiring entrepreneur, this degree can be your key to a prosperous future in the data-driven world.
The Technical Master of Business Administration in Business Analytics and Data Science allows students to integrate business and analytical decision-making skills in a technologically complex business environment. 
Students learn how the business of for-profit and non-profit organizations meld to function successfully. The Business Analytics and Data Science core courses prepare students to structure, transform, and analyze data to gain insights that will provide opportunities to improve business intelligence and managerial decision making. The required courses build a solid foundation encompassing technology, management, marketing, accounting and finance. As more organizations embrace a data-driven decision-making process, the need for professionals who can manage and analyze information grows in importance.
The program provides the essential knowledge to enter into the industry in a role managing data assets of budgets, employment, marketing and other data science duties, all of which are essential to the success of a profitable business.
This degree opens doors to high-level leadership positions, including, but not limited to:
Data Science Manager - average salary, $140,6961
Data Sciences Analyst - average salary, $69,0351
Business Data Management Analyst - average salary, $68,3461
Data Sciences Team Leader - average base salary, $121,3901
Director of Data Science Operations - average salary, $160,8592
1. Salary based upon 2020 Glassdoor salary data
Why Capitol?
Our location is a magnet for top faculty.
The Baltimore/Washington area has one of the largest concentrations of high-tech companies, defense contractors, and government agencies.
Our classes are comprised of like-minded peers.
Through collaboration with other students, you'll learn skills and techniques in class that you can apply on the job immediately.
Program is 100% Online
Our technical master of business administration in business analytics program is offered 100% online. Once you are accepted, all you need is an Internet connection and you can attend class. We keep the classes small so you receive personalized attention from faculty who are interested in sharing their knowledge and helping you succeed.
Capitol Tech Opportunities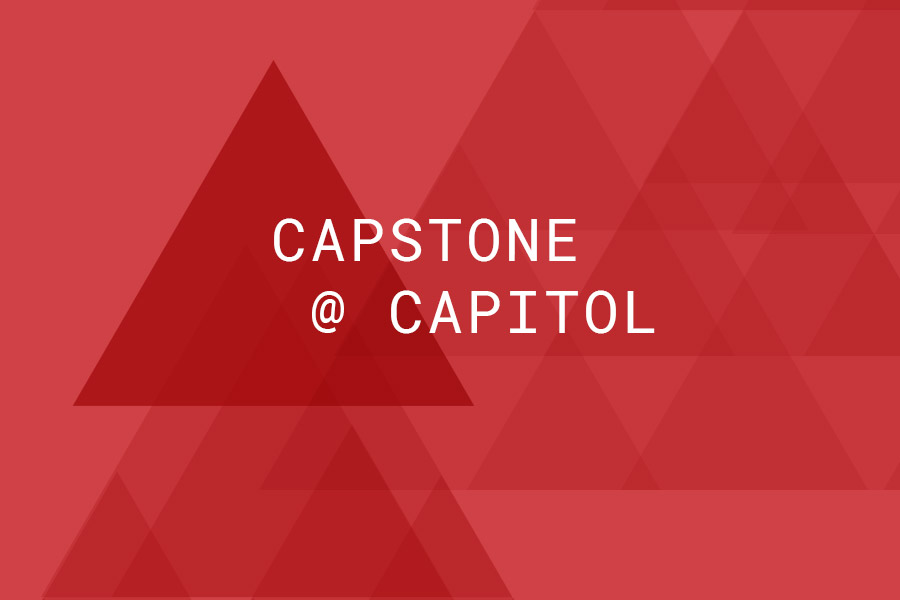 Capstone Project
You'll work with a faculty member to develop a major project-based research paper that draws on prior coursework and your personal experiences.
Career Opportunities
Technical Master of Business Administration in Business Analytics and Data Science Career Opportunities
Get the advanced education needed to become a senior business analyst, business information analyst or business management/financial analyst.
Degree Details
---
Curriculum
Applicants who possess an undergraduate degree in business are waived from completing MBA-600 "Fundamentals of Professional Management." All other MBA-students must complete it. MBA-600 provides a broad foundation in accounting, finance, economics and statistics.
---
Tuition & Fees
Tuition rates are subject to change.
The following rates are in effect for the 2023-2024 academic year, beginning in Fall 2023 and continuing through Summer 2024:
The per credit charge for all other masters courses is $630 per credit hour.
The active duty military tuition rate is $350 per credit.
The retired military tuition rate is $530 per credit.
The information technology fee is $39 per credit hour.
High School and Community College full-time faculty and full-time staff receive a 20% discount on tuition for master programs.
Find additional information for 2023-2024 masters tuition and fees.