Earn a Master's of Science in Unmanned and Autonomous Systems, help navigate a changing world
The Master of Science (M.S.) degree in Unmanned and Autonomous Systems (UAS) provides the student with the necessary knowledge and training to become a professional in the diverse field of Unmanned and Autonomous Systems.
In an ever-evolving global marketplace, staying ahead means embracing the future. The exponential advancement in technology has opened a multitude of career opportunities. One such burgeoning field lies in the domain of Unmanned and Autonomous Systems (UAS). This field, once dominated by aviation and the military, has extended its reach across numerous sectors, including agriculture, delivery services, emergency services, surveillance, oceanography, and environmental science. Aspiring tech enthusiasts and professionals keen on riding the wave of innovation should consider pursuing an online Master of Science (MS) in Unmanned and Autonomous Systems. Let's delve into why this could be your perfect career choice.  The degree provides a firm foundation in unmanned and autonomous systems policy, risk management, flight operations, mission planning, special sensors, weapons, surveillance and data collection, aeronautical engineering, aeronautical technologies and ground control. Students will develop policy and risk management plans for unmanned and autonomous systems. Students of the program will also be able to become a certified Unmanned Aerial Systems Operator and gain the knowledge and skills to support governmental and commercial employers. In addition, a special optional course will prepare you to pass the Federal Aviation Administration (FAA) Part 107 test to become a Commercial UAV Pilot.
Unprecedented Demand and Job Growth
The UAS industry is experiencing unprecedented growth. A report by the Association for Unmanned Vehicle Systems International (AUVSI) forecasts that the expansion of commercial UAS could create more than 100,000 new jobs and provide a $82 billion boost to the U.S. economy by 2025. Furthermore, industries across the globe are tapping into the limitless potential of unmanned systems, thus creating an urgent demand for experts who can develop, deploy, and manage these advanced technologies.
The program provides the essential knowledge to enter into the industry with careers, such as:
UAS Program Analyst - national average salary, $67,782/Washington, DC area average salary, $70,7071
UAS Program Manager - national average salary, $58,804/Washington, DC area average salary, $62,2071
UAS Data Analyst -national average salary, $62,453/Washington, DC area average salary, $68,7481
Business Development Manager - average salary, $72,1942
Risk Manager - average salary, $86,5382
Policy Specialist - average salary, $58,3331
Broad Spectrum of Application
The versatility of unmanned and autonomous systems is awe-inspiring. From drones monitoring crop health to autonomous vehicles shaping the future of transport, and from disaster response robots to surveillance systems enhancing security, UAS have transformative applications. By pursuing an online MS in UAS, you gain the expertise to design, analyze, and apply these systems across a diverse array of industries.
The Convenience and Flexibility of Online Learning
The beauty of an online MS program in UAS lies in its convenience and flexibility. The digital platform enables students to manage their learning journey along with their personal and professional commitments. Furthermore, the online program provides students access to world-class faculty, a diverse peer group, and resources from universities globally, breaking the confines of geographical boundaries.
Innovative Curriculum
An online MS program in UAS offers a comprehensive curriculum designed to equip students with skills needed to excel in the realm of unmanned systems. From gaining deep insights into the design, control, and application of unmanned systems to understanding the ethical, legal, and public policy implications, this program provides a well-rounded understanding of the field. Moreover, the innovative learning model often includes a blend of theory, hands-on practice, and research work.
Tapping into the AI Revolution
Autonomous systems are at the forefront of the AI revolution. They incorporate machine learning, computer vision, sensor fusion, and decision-making algorithms to function. Therefore, specializing in UAS enables you to understand and contribute to the cutting-edge AI technology, making you a valuable asset in this tech-dominated era.
Leadership and Entrepreneurship Opportunities
The field of UAS not only offers ample job opportunities but also opens doors for leadership roles and entrepreneurship. As the UAS technology matures, there will be a need for strategic leaders to drive businesses and policy initiatives. Simultaneously, innovative startups focusing on UAS technology are burgeoning, offering vast entrepreneurial opportunities.
The pursuit of an online Master of Science in Unmanned and Autonomous Systems can be a significant step toward securing a promising future. It offers not just a career, but a chance to be at the forefront of technological revolution, to shape policies, and to create systems that could redefine our way of life. As the world becomes more interconnected and automated, the importance and relevance of UAS will only increase, making it an ideal field for those aiming to excel in the technology arena. Embark on this journey, and steer your way toward a rewarding future.
Capitol Technology University has assembled a network of our nation's top experts to educate you—the new generation of aviation and unmanned systems planners, architects, designers, engineers, and operators. This network includes the Royal Aeronautical Society (RAeS), a British organization dedicated to the global aerospace community and the professional development of its members. As a corporate partner of RAeS, the university is able to provide the opportunity for international networking, debate, resources, and professional development.
1. Salary based upon 2020 Glassdoor salary data
2. Salary based upon 2020 PayScale salary data
Why Capitol?
Our location is a magnet for top faculty
The Baltimore/Washington area has one of the largest concentrations of high-tech companies, defense contractors, and government agencies.
Our classes are comprised of like-minded peers
Through collaboration with other students, you'll learn skills and techniques in class that you can apply on the job immediately.
Program is 100% Online
Our master's in unmanned and autonomous systems policy is offered 100% online. Once you are accepted, all you need is an Internet connection and you can attend class. We keep the classes small so you receive personalized attention from faculty who are interested in sharing their knowledge and helping you succeed.
Capitol Tech Opportunities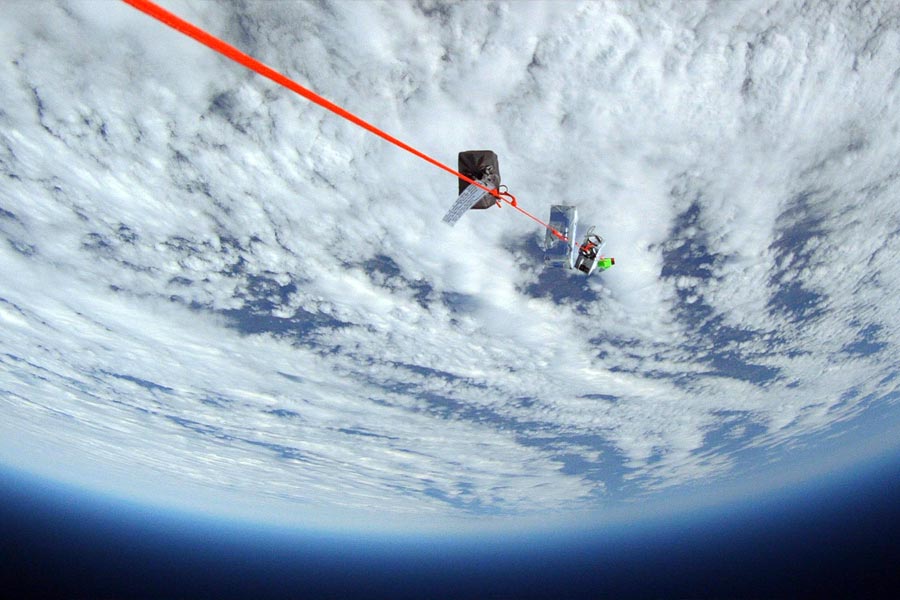 High-Altitude Balloon Launch
Collaborate with fellow students to develop and test high-altitude sensors and instruments, design structures to house these instruments, and analyze the data collected from the high-altitude balloon launch. All majors are welcome!
Career Opportunities
Market Demand for Unmanned and Autonomous Systems
Get the advanced education needed to become a UAS program analyst, business development manager, risk manager or policy specialist
According to Indeed.com, the salary for a UAS program analyst ranges from $75,000 to $110,000
Degree Details:
---
Curriculum
Generally, to apply to a graduate degree program, you should have completed a bachelor's degree or be completing a bachelor's degree prior to enrollment and should have a 3.0 cumulative grade point average or higher.
Some master of science programs have additional technical competency requirements.
---
Tuition & Fees
Tuition rates are subject to change.
The following rates are in effect for the 2023-2024 academic year, beginning in Fall 2023 and continuing through Summer 2024:
The per credit charge for all other masters courses is $630 per credit hour.
The active duty military tuition rate is $350 per credit.
The retired military tuition rate is $530 per credit.
The information technology fee is $39 per credit hour.
High School and Community College full-time faculty and full-time staff receive a 20% discount on tuition for master programs.
Find additional information for 2023-2024 masters tuition and fees.