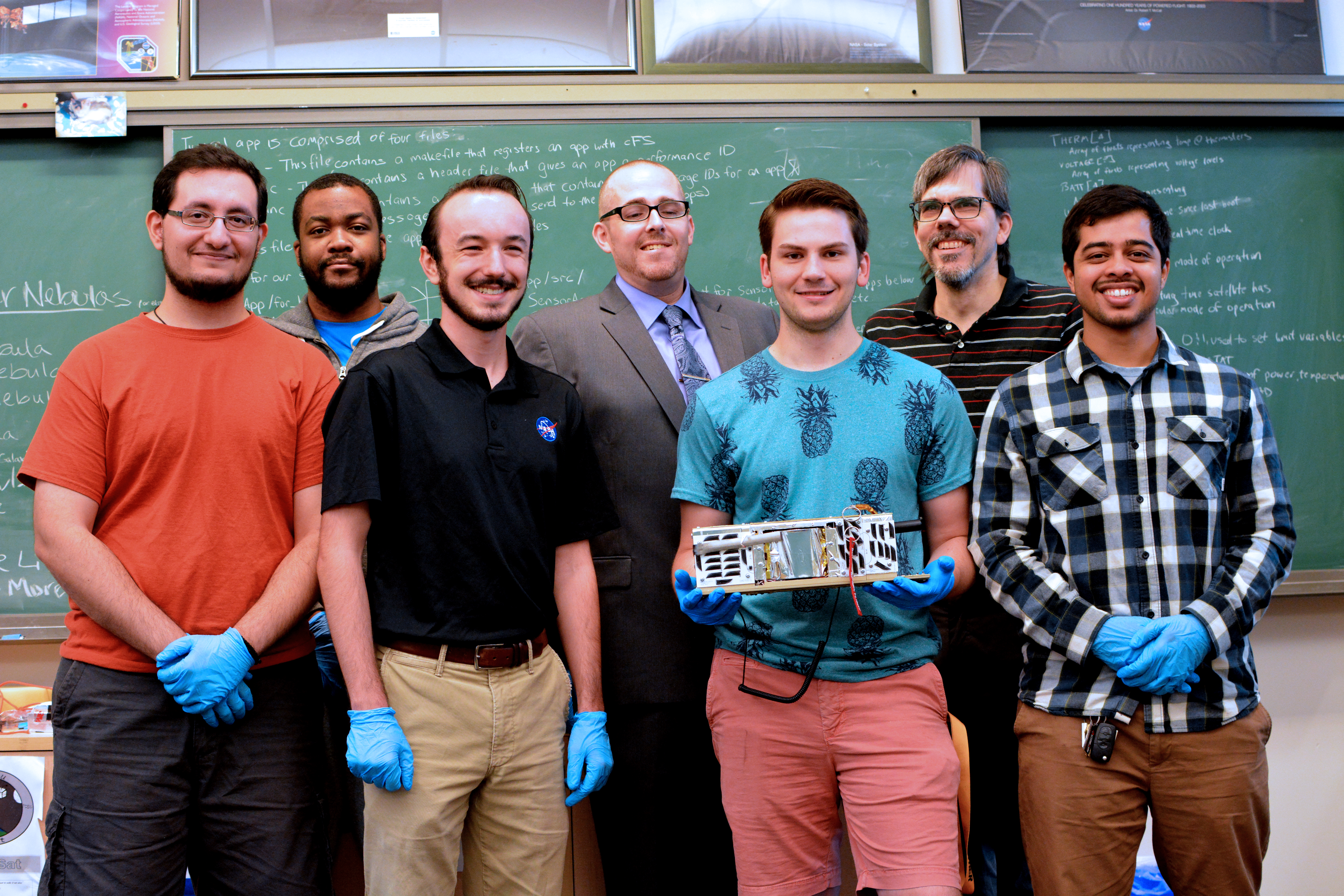 The designing, building, and testing are done – and now members of the Cactus-1 satellite project at Capitol Technology University are standing by for final delivery of their payload for launch into space.
 "Over the summer, we integrated the entire payload," explains senior Pierce Smith, the Cactus-1 team's lead engineer. "We then sent it to Morehead State University in Kentucky for tests that included vibration and vacuum thermal analysis. Then we headed off to Chantilly, Virginia for our Mission Readiness Review, during which we met with the launch liaison, Tricept, representing our Launch provider, Virgin Orbit. After a long review we walked out knowing we were good to go."  
The mission is a historic one for Capitol: it is the university's first to be selected for the CubeSat Launch Initiative, representing universities, non-profit organizations, and NASA field centers. Other schools chosen for CSLI include Arizona State, Cornell, Colorado State, Michigan State and the University of Central Florida.
And it all grew out of two student-led projects -- the TRAPSat debris-capturing experiment and Project Hermes, which is exploring methods of satellite command and control via TCP-IP – that quickly gained traction and student interest starting in 2014.
Eventually, both projects were combined into a single payload that will be flown to a high altitude aboard a carrier aircraft known as Cosmic Girl, then launched into space aboard a Virgin Orbital LauncherOne rocket.
For Smith, it will be the culmination of a long, intricate process.
"For me the most rewarding part was building the payload – that's when I really started to get that sense of doing something really incredible," he says. "We built our power board from scratch to save money. We made a lot of our stuff rather than buying it off the shelf. For example, we made our own USB cables."
The work was painstaking and labor-intensive. "You have to make sure each small component works. You have to pair up components and see if they work together, then repeat with another pair of components. It can get tedious. But towards the end of it, when you're actually putting it all together  -- that's really fun," Smith says.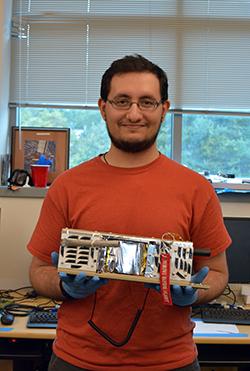 "With a spacecraft, you have to think about how everything works together. You have power management: you have to figure out how to give something five volts. You have a processor – such as a Raspberry Pi – so you can process all of your information. You have a communications section where you take digital information, turn it into analog information, and then transmit it – so you need an antenna. There are all these little components that have to function as a whole."
The team has undergone personnel changes since inception, as veteran members graduated and moved on and new students came on board. Georgios Giakoumakis, a senior in computer engineering, is one of the newer members.
"I joined after the development stage, so my role has been more hands-on, more involved in final assembly and integration," he says. "I focused in particular on the on-board camera systems, and then general hardware integration – wiring and soldering. I also constructed, tested, and integrated the solar panels onto the power boards and then we assembled the satellite for final integration, in preparation for testing as well as the Mission Readiness Review.
"The most exciting thing about this project is that you're always learning new skills," Giakoumakis says. "You won't repeat the same thing twice. You get to work with amazing people on a mission that offers incredible learning experiences that you can't really find anywhere else."