Capitol Partners with Industry Leader Textron Systems for New Unmanned Systems Programs
April 6, 2018
This coming fall, Capitol is set to launch two new unmanned systems programs: an undergraduate program in Unmanned and Autonomous Systems, and a master's program in Unmanned and Autonomous Systems Policy and Risk Management.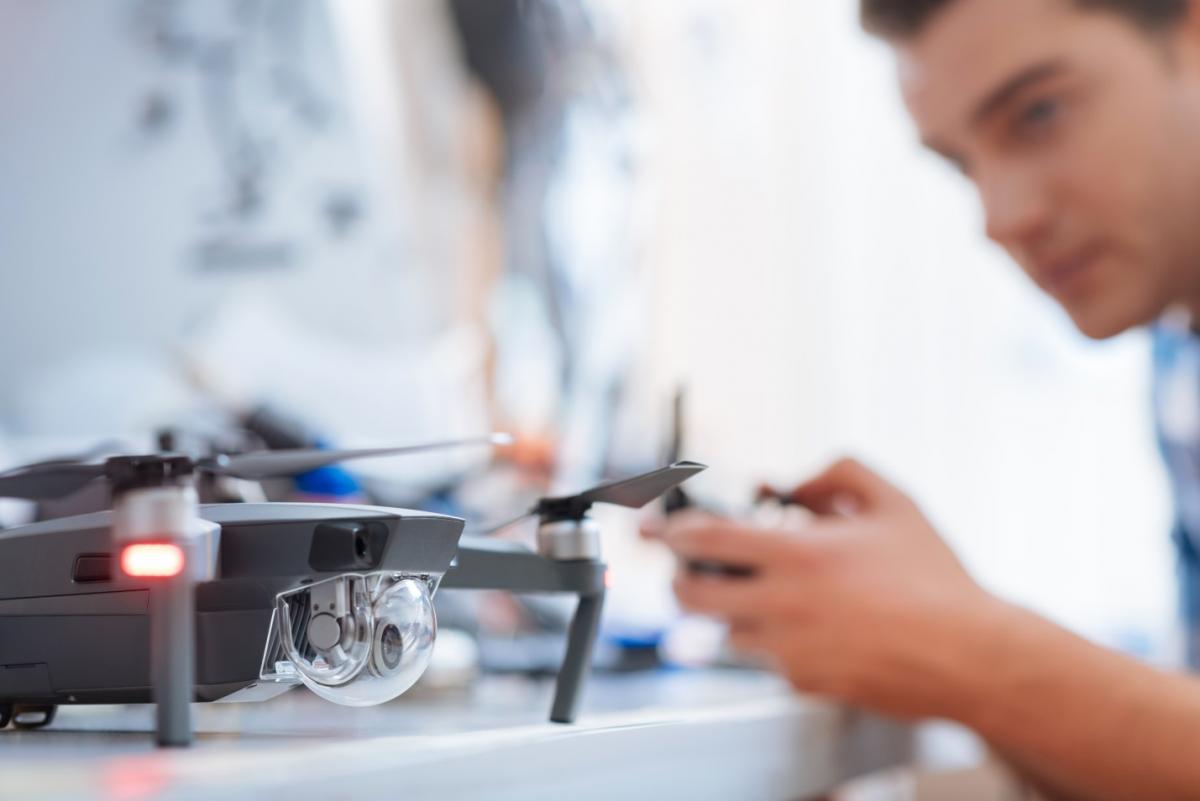 To give our students the hands on experience they need, Capitol has partnered with Textron Systems, part of multi-industry company Textron and a manufacturer and operator of numerous unmanned systems. Recently, Textron Systems representatives Adam Leachman and Steve Lister visited Capitol during our undergraduate career fair to meet our students and demonstrate some of their unmanned technology. They spoke with Capitol's Meghan Young about the company, industry developments, and career paths for students.
MY: Can you tell me a little more about Textron as a company?
Leachman: Textron as a whole is a conglomerate of many different companies, including well-known brands like Cessna and Bell Flight. Textron Systems, which is the company that I primarily work for, has been involved with unmanned systems for several decades.
MY: How will Textron Systems be evolving in the future?
Leachman: We're evolving in many different areas as far as unmanned systems. The newest venture that we've been involved with is  an unmanned maritime craft or surface vehicle called the CUSV™. We are also always furthering our unmanned systems aircraft systems with platforms such as NIGHTWARDEN™ Tactical Unmanned Aircraft System (UAS), Aerosonde® Small UAS and Aerosonde HQ. In addition to Textron Systems' unmanned products, the company also designs and manufactures marine craft, armored vehicles, precision guided weapons, as well as a wide range of other products. The company is always looking to evolve its products to ensure it meets its customers' future needs.
MY: What kind of academic prep would you like to see in students who come to work for Textron Systems?
Leachman: What we like to see in Aerosonde training is somebody with a networking background, aviation background, and/or basic knowledge of aviation. You don't need to be a private pilot to fly these systems, but you must have knowledge of aerodynamics, weather, and networking is really key to these systems. It's less about being a pilot and flying the system as it is managing the system from a software standpoint.
MY: For our unmanned systems undergraduate level they're talking about requiring that students get that first level certificate as part of the program. Would that help them in terms of getting a job?
Leachman: The course will give the student the information they need to pass the FAA part 107 knowledge test. After passing the test they will be able to fly small UASin a commercial capacity.
MY: Would a second level certification, which will be offered as optional through our program, be more beneficial to students?
Leachman: Students with a second level certification, have a distinct advantage over other applicants when applying for a position. These students come to us with an unmanned systems degree, but also have experience flying a larger platform such as the Textron Systems' Aerosonde.  
MY: So what kind of soft skills are you looking for potential employees to have?
Leachman: Personal skills are very important in our industry as often we deal with military customers on a regular basis. So, the ability to act professionally under pressure is important to us.
MY: What kind of positions are you hiring for currently?
Leachman: We are hiring for many different positions right now. Everything including engineers, aircraft designers, pilots of UAVs, designers for UAVs, system programmers, and system engineers.
MY: Could someone who didn't go through one of our unmanned systems programs – a cybersecurity or astronautical engineer, say – could they find a job with Textron Systems?
Leachman: Yes, absolutely.
MY: What are the opportunities for upward mobility at Textron Systems like?
Leachman: For instance, myself and Steve we both started off as Aerosonde instructors – operators – and now we've progressed into the management chain. So, in approximately five years, we went from basic Aerosonde operators, which is what somebody in this degree program would start as, to managers.
Lister: One of our colleagues utilized Textron's tuition reimbursement benefit and went back to school for a master's degree. Once you have that degree, the company immediately utilizes your new skills. Textron likes to hire entry level talent, develop and grow that talent, then provide opportunity and promote from within the organization.
MY: Why would you recommend that our students come to work for Textron Systems?
Leachman: Opportunities. Textron Systems really takes care of their employees. There are opportunities for professional development within the company, as well as opportunities such as the tuition reimbursement program to continue your learning.
Lister: One of the good things that I like is that, if you ever conquer your area and you're looking for a new opportunity or career move, they can help you find that next step in your career within Textron Systems or within the larger Textron enterprise. Textron has a number of development programs where you can rotate between roles and business units.  This allows you to gain experience within different areas and pick which one is right for you.
Textron Systems businesses develop and integrate products, services and support for customer missions including defense, homeland security, aerospace, and infrastructure protection. To learn more about Textron Systems, please visit their website at https://www.textronsystems.com.
CUSV, NIGHTWARDEN and AEROSONDE are either trademarks or registered trademarks of AAI Corporation, an operating unit of Textron Systems.