Why are you interested in mechatronics engineering? Is it because you love to figure things out and solve problems? Do you like inventing and creating?  Or, maybe you're not satisfied with the way things are, but instead wondering what might be?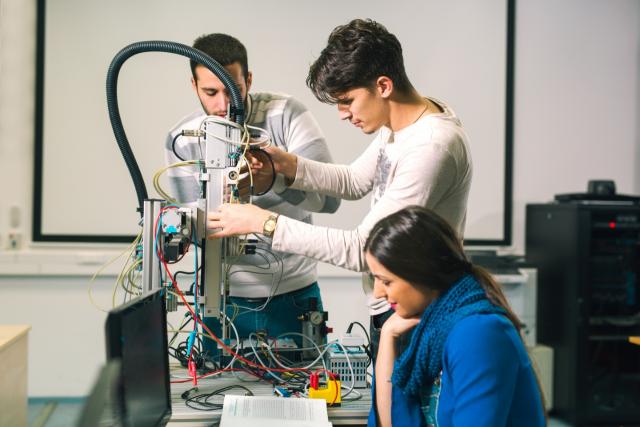 Whatever the reason, one of the most exciting classes for mechatronics engineering students is Principles of Mechatronics (MEC-220). This is the course where you begin to see this field come to life. You'll discover the possibilities that exist when you combine electronics, electrical, mechanical, and computer systems engineering with information technology.
This course builds on what students learn in previous courses.
Through the lectures, students in MEC-220 learn the core components of mechatronic systems; electrical and electronic components and circuits, sensors and actuators. During the laboratory section of the class, students apply the theoretical aspects they learn during lectures to a group project that can be entered in a national design and build competition of their choice. 
As part of the group project, everyone on your team will learn project design, report, testing and prototyping. The entire class is structured to teach skills students will use once they are employed as mechatronics engineers. 
Many of the courses in Capitol's engineering programsinclude group work because that mimics the real-life work setting for mechatronics engineers. 
Learning to work in groups exposes students to soft skills such as, teamwork, planning, leadership and communications. According to the National Association of Colleges and Employer's Job Outlook 2019survey, employers are looking for communications, problem-solving skills and the ability to work as part of a team. 
In an article titled, Teaching Teamwork to Engineers, management psychologist Paul Powers explains that,  "Team building is an ongoing process, not a singular event—who better than an engineer to understand that something worth building takes time, brains, energy, and commitment to something that will last?" 
It's amazing how many of the things in life we take for granted—from the auto focus on your cell phone camera to the anti-lock brakes in a car­—are examples of mechatronics. As the world becomes more interconnected, the field of mechatronics will continue to grow.
Does a career in the field of mechatronics sound interesting to you? Learn more about the bachelor's degree programs in mechatronics engineering and mechatronics and robotics engineering technology at Capitol Tech. For more information, contact admissions@captechu.edu or phone 800-952-1992.