Capitol Tech parent Susan Hansen has seen both of her sons thrive on the STEM-focused campus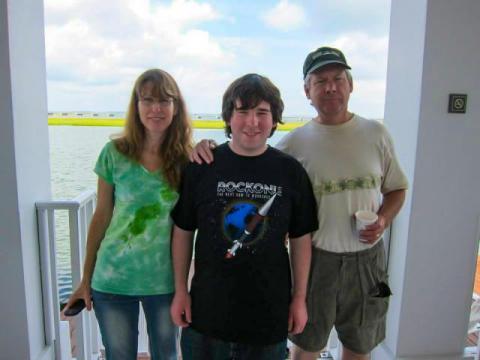 Susan Hansen is a Capitol Technology University parent to not one, but two sons. Her eldest, Carl Hansen, graduated from Capitol Tech with a Bachelor's in Astronautical Engineering while her youngest, Joseph Hansen, is currently pursuing a Bachelor's in Cyber and Information Security.
"They're living such exciting lives," Susan explains, which she credits largely to the Capitol Tech community and the learning opportunities her boys had on campus. Susan especially sees this with her older son – Capitol Tech pushed Carl to realize his full potential. 
Susan says that she always knew that Carl was going to go into STEM. "He always wanted to know the science behind everything – bridges, electrical grids, trains, planes and rockets," she recalls, "when he was just 2-years-old he took apart my dishwasher and was able to put it back together."
Despite Carl's clear aptitude, Susan explains that her son was an average student in high school because he was not motivated by language and writing. Susan explains that she "knew he had this potential, but we didn't think he was going to reap it when competing with people who could excel in math and science areas in addition to languages and writing." 
For this reason, a STEM-focused university like Capitol Tech made all the difference for Carl. Susan recalls that she would take Carl to the NASA Goddard Space Flight Center when he was younger, and "he always left that place saying 'one day I'm going to work there.'" At Capitol Tech, Carl was able to make his dreams come true by working with NASA in different capacities while still at the university. 
"Everything at Capitol Tech is set up to propel students towards success," Susan says. "They join clubs where they work on projects, the projects lead to internships and internships help them get jobs."
For Carl, this included participating in NASA's RockOn! Workshop on Wallops Island, Project Hermes, high-altitude balloon launches, the rocket club and more. He was also president of Capitol Tech's amateur radio club and is a licensed ham radio operator. Susan recalls that she questioned Carl's choice to join the radio club as a freshman. His reply: "no, this is what you need to start out with for communications with satellites." 
The experience that Carl gained during his time at Capitol Tech had an immeasurable impact on his professional success. "When Carl graduated, he was years ahead of his peers at other institutions – not just in his internships, but in these real projects and variances that he worked on," Susan says. 
Currently, Carl is working as a Systems Engineer at the Space Telescope Science Institute.
Susan's younger son, Joseph, had initially planned to attend a different institution. However, after seeing his older brother's experience and the outcome of his education, Joseph knew that he could find similar success at Capitol Tech. The opportunities for Joseph to succeed were quickly made evident in his freshman year at Capitol Tech when he became CompTIA certified along with a group of similarly goal-oriented students who studied for and took the test together. 
"There's a process that you go through, and they did it as a group and they passed as a group," Susan says. "That's the kind of thing this institution can make happen." 
Susan adds that this group experience extends to many realms of Capitol Tech and was something that her boys benefitted from immensely. Whether it be cyber competitions or club opportunities, Capitol Tech fosters a like-minded community, where STEM-oriented students feel comfortable to explore their interests in ways that are both professionally and personally significant. Joseph is on the cyber battle team, Signal-9. He also works as a manager in Capitol Tech's CyberLab. 
As a mother of two successful young men, Susan knows that Capitol Tech has played a role in their exciting careers. "At Capitol Tech, my kids were able to stay focused and stay interested," Susan says. "They are both in love with their fields and have found careers that they are passionate about." The role of a STEM-focused education has had an immeasurable impact on Carl and Joseph's success.