Earn a Master of Science (MS) in Engineering Technology online
In an ever-evolving world where technology continues to redefine boundaries, the demand for skilled engineering professionals is on a steady rise. One potent way to enhance your career trajectory in this competitive field is by pursuing a Master of Science in Engineering Technology. As online education becomes increasingly prevalent and respected, the option to earn this degree online makes it an even more appealing prospect. Here are the reasons why earning an MS in Engineering Technology could be a game-changing career choice for aspiring engineering professionals.
Flexibility and Accessibility
The primary advantage of pursuing an MS in Engineering Technology is the unparalleled flexibility it provides. Whether you are a full-time working professional or juggling multiple responsibilities, online programs allow you to adapt your learning to your schedule. As the course materials are accessible 24/7, you can learn at your own pace, and from anywhere in the world. This approach ensures minimal disruption to your personal and professional life while still gaining a valuable qualification.
Advanced Technical Proficiency
The MS in Engineering Technology program prepares students with advanced knowledge in a range of engineering fields. You'll delve into the fundamentals of circuit modeling, analysis, and construction, and gain insights into government and industry regulations. This curriculum is designed to enhance your technical proficiency in key areas that are in high demand across industries.
Enhanced Problem-Solving Skills
Through the comprehensive coursework in an MS in Engineering Technology program, you'll develop a keen understanding of mathematical modeling and analysis, electromagnetic interference and compatibility, and advanced concepts of design for reliability, manufacturability, and testability. This knowledge base will equip you with problem-solving skills vital for troubleshooting and innovation in real-world engineering contexts.
Interdisciplinary Approach
An MS in Engineering Technology degree emphasizes the integration of specialized knowledge across various engineering technology fields. This interdisciplinary approach promotes a broad perspective and adaptability, enabling you to evaluate diverse points of view and navigate efficiently in multidisciplinary teams and projects.
Career Advancement Opportunities
Possessing an MS in Engineering Technology degree opens doors to a multitude of career opportunities in various industries, including engineering, manufacturing, production, design, testing, and evaluations of products and materials. Furthermore, it could potentially fast-track promotions and salary increments, giving you an edge in your professional journey.
Industry-Relevant Experience
Online MS in Engineering Technology programs often incorporate practical projects that mimic real-world scenarios. These hands-on experiences offer a practical application of theoretical principles and help you understand how to design and construct circuits that meet industrial, military, and international standards.
A Master of Science in Engineering Technology is a smart career choice that not only equips you with advanced technical skills but also fosters flexibility, interdisciplinary understanding, and enhanced problem-solving abilities. It's a unique combination of academic advancement and practical skill-building that's designed to meet the industry's demands and enhance your career growth. No matter where you are in your engineering career, investing in an MS in Engineering Technology degree online can be a significant step towards a promising future.
The program provides the essential knowledge to enter the industry in leadership roles, such as:
Engineering Technologist - average base salary, $104,9171
Engineering Specialist - average base salary, $70,7561
Lead Engineering Specialist - average base salary, $97,6091
Why Capitol?
Our location is a magnet for top faculty
The Baltimore/Washington area has one of the largest concentrations of high-tech companies, defense contractors, and government agencies.
Program is 100% Online
Offered entirely online, this program teaches what it takes to adapt to changes in technology and participate in solving problems facing society.
Institute of Electrical and Electronic Engineers Approved
Capitol Technology University's engineering technology program is just one of fifteen colleges and universities approved by the Institute of Electrical and Electronic Engineers (IEEE) as a provider of quality engineering education.
Capitol Tech Opportunities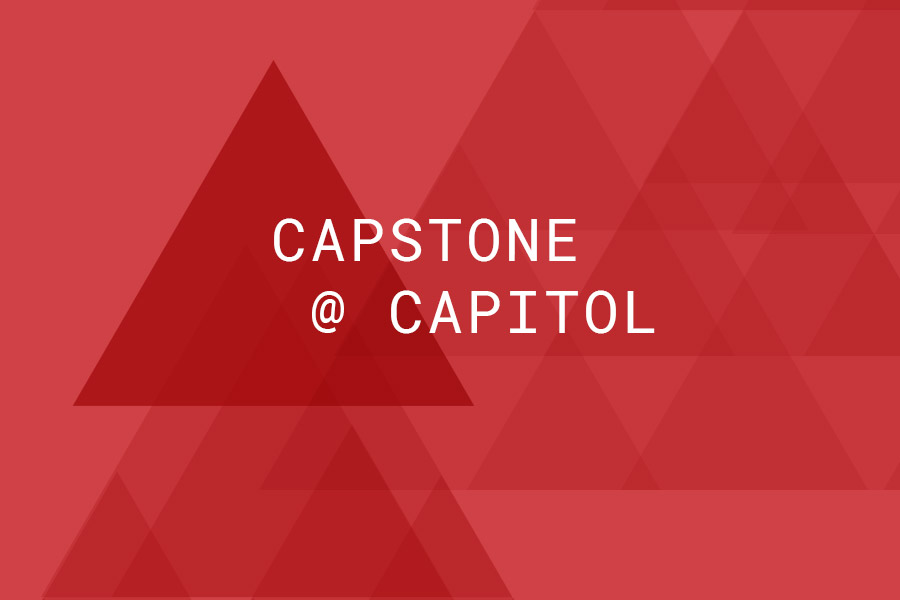 Capstone Project
You'll work with a faculty member to develop a major project-based research paper that draws on prior coursework and your personal experiences.
Career Opportunities
Market Demand for Engineering Technology
82% of our graduates have a job or enter graduate school 90 days after commencement
The average salary for a MS engineering technology graduate is $74,000
Degree Details: Program starts Fall 2020
Curriculum
A bachelor of science degree in engineering technology, electrical engineering or equivalent is recommended but not required. Students with an accredited B.S. in a related field will be considered for admission under provisional status.
---
Tuition & Fees
Tuition rates are subject to change.
The following rates are in effect for the 2024-2025 academic year, beginning in Fall 2024 and continuing through Summer 2025:
The per credit charge for all other masters courses is $630 per credit hour.
The active duty military tuition rate is $350 per credit.
The retired military tuition rate is $530 per credit.
The information technology fee is $40 per credit hour.
High School and Community College full-time faculty and full-time staff receive a 20% discount on tuition for master programs.
Find additional information for 2024-2025 masters tuition and fees.