Capitol Students Participate in RockSat-X, Launch Debris-Capturing Experiment
September 16, 2016
An August 17 rocket launch from NASA's Wallops Flight Facility carried student experiments from eight US universities and community colleges – and Capitol Technology University was among them.
The launch, capping this summer's RockSat-X program at Wallops, took a Terrier-Improved Malemute suborbital sounding rocket to an altitude of 95 miles. Capitol students who had spent months building and testing their payload were on hand to see it lifted into space.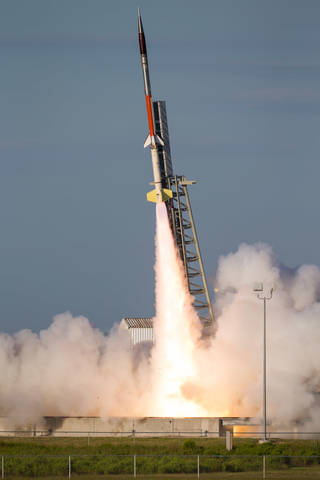 It was another milestone for the TRAPSat student team at Capitol, which has been experimenting with the use of aerogel to capture miniscule space debris. The team's goal at RockSat-X was to provide a proof of concept for using aerogel as a debris removal tool, and to demonstrate that aerogel blanketing can be a viable alternative to Multi-Layer Insulation.
The TRAPSat payload included a camera used to record images of the debris and to provide the team with data. The team hopes to use this data as it continues refining the project ahead of a 2018 launch as part of NASA's CubeSat Launch Initiative.
"The team was thrilled with the RockSat-X experience," said TRAPSat's lead engineer and principal investigator, Ryan Schrenk. "They were able to complete NASA's review process, have their payload get on the launch pad, and see it actually launched into space. That says a lot. It says NASA had confidence that their payload would work, and that it wouldn't cause interference with anything else."
"NASA was happy with what we did, we were happy we were able to do it, and we appreciated being one of the few teams that was able to stay on schedule and within the restrictions provided," Schrenk said.
Professor Angela Walters, chair of the astronautical engineering program at Capitol, said the review process – challenging as it is -- is one of the most valuable aspects of RockSat-X, since systems engineering is a way of looking at the "big picture", and using systems engineering principles when making technical decisions and determining solutions to problems.
 "One of the benefits of the program is that the students get to go through these scheduled design reviews and have to meet the requirements. They're required to pass those reviews in order to continue on in the program," she said. "That's great practical experience that students can use  in their post graduate careers."

It also dovetails with the practical approach of Capitol's AE program, Walters said. "Our focus is on systems engineering and processes," she said. "We prepare them, over the course of their projects at school, for what they will encounter in real-world situations."
Beyond that, she said, RockSat-X is just plain exhilarating.
"It's cool to build something, have it placed on a rocket, and see it fly into space," she said. "Lots of people dream about that kind of experience. Our students get to do it."
Participating in RockSat-X were TRAPSat team members Christopher Murray, Zachary Richard, Robert Pierce Smith, Michael Strittmatter, Nathan Weideman, assisted by Zalika Dixon, Dan Whiteside, and Syiera Williams.