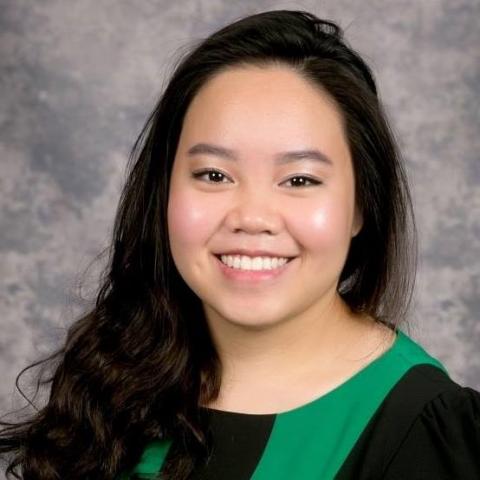 What is the Cyber Lab at Capitol Technology University?
What do the students do there, and how can the lab help me?
We sat down with Capitol Technology University student Giang To to learn more about the cyber opportunities at Capitol. To, a junior at Capitol, is double majoring in Computer Science and Cyber and Information Security. She also has extensive experience at the Cyber Lab, including a stint as lead lab manager.
For those people who may not be familiar with our school, can you describe what the Cyber Lab is and what I might learn there?
GT: The cyber lab is a place for you to come in and gain more hands-on experience than you might get from your classes. Capitol is very geared towards hands-on learning, but that can only go so far in a timed class. In the lab, because it is a lab environment, you get to experiment a lot more. On top of that, a lot of us as lab managers have taken more classes and worked in the field of cyber, so we can serve as peer learning resources to other students.
What I find awesome about that, is that just by hanging out in the lab you hear cyber terms and concepts being thrown around and later on you may come across those notions in your classes. And you can say, hey, I actually heard about that just by hanging out in the lab. I think it's a great learning environment. It's not a formal way to learn, but it's a very effective way to learn what you don't get to learn in classes.
As lead lab manager during the past school year, what was your role?
GT: Being lead lab manager means not only helping students, but also organizing most things that go on in the lab. So last semester, I pulled everyone together to form a team for the National Cyber League competition. That is online based, so it's a little bit easier to organize.  I mostly sent out emails to let people know what's coming up and what the timeline is like so that they can see if they can participate. And then I distributed codes so that they can sign up with instructions.
I also needed to make sure that I know what's going on in our infrastructure. Our servers and routers are what make us able to support the lab's computers. So my role was both administrative and technical, which was a little bit tricky since I was only working ten hours in the lab. It's a lot of work, especially to do it well, but I found it to be an intense learning experience that gave me the ability to do both the administrative work and handle the technical side of things in the lab.
I know that the Cyber Lab does tutoring, can you speak to that?
GT: Yes, so we help students with their lab assignments. We have lab periods for at least the IAE-201 and IAE-301 classes, where students meet twice a week.  For one session students are in class for  a lecture with their  professor, and for the other class, they are  on their  own or in the lab doing the lab assignments. During those lab periods, if they have issues that they run into in their lab or don't understand something, then we will assist them with that. So we don't do the lab for them, because that defeats the purpose, but we will help them with the concepts.
In helping other students with their labs, we also get to learn more about the material.  First, we need to go through the lab first ourselves to make sure that we know what we're talking about before handling a class. But, sometimes we haven't thought about some of the questions that students might ask. So by helping them, we are also reinforcing our own knowledge and I think that's pretty neat.
We talked a little bit about this, but I wanted to ask you about some of the events that the lab has, like the cyber competitions and Cyber Saturdays.
GT: Sure, so Cyber Saturday is something that we try to do about once every couple months or so. That is our way to reach out to people outside of Capitol, especially perspective students who may be interested in the field but don't know if they want to go into it yet. We have various activities. We sometimes have mini competitions that you can do online, some challenges just to get your feet in the water and see if you're into this kind of work. We also have a lock picking event so you can try your hand at that. Some people get a little freaked out about the idea, that, oh you're breaking locks.
That's cool!
GT: Right? In cybersecurity one important thing that people don't necessarily think about is physical security. It doesn't matter how many passwords you have or how long the passwords are that you give your accounts if you just leave your computer there and someone can just come in and take it away. There's not much you can do about that. So learning lock picking is a way for you to know how to have better physical security, and that's important.
We also have speakers coming in, so we have representatives who are doing the job as they speak, so students can have a sense of what it's like and decide if that's something they want to do in the future.
So that's only a few of the things that we have people do during Cyber Saturdays. And then, we have two big competitions.
GT: There's the National Cyber League, which is online based. It's more beginner friendly, so they have challenges usually at three different levels: easy, medium, and hard. Even if you are a beginner you will be able to answer a lot of the easier questions, which I think is important because when I did my first competition it was a small one but it was not as beginner friendly. And I found that I did not know enough and I did not want to participate in more because I felt like I needed to know more in order to have fun. But with National Cyber League, you get to learn some new things, and you also have the rewarding experience of oh, I solved this challenge.
The other one we have is the Collegiate Cyber Defense Competition, and that one is a lot more intense. It has multiple rounds. The first one is online based, and is the prequalification. If you make it through that you go to the regional round and compete there with a few other teams. During that round, you have actual penetration testers who work in the field actively attacking your infrastructure and you have to defend your systems and make sure your services are up. You also have fake customers calling in on the phones. They will call in and say, I can't get into my bank account. Then you have your managers and CEO who are asking hey, why are we down, what's going on and what are you guys doing? So it's a lot of pressure but it can also be a lot of fun.
A lot of the learning occurs not really in the competition, but in the preparation leading up to it. So what we're trying to do right now is to have a cyber competition team that meets every week. We plan to study from the very basic concepts up to the complicated ones leading up to the competition next year. With all that time to prepare, I think we'll be able to do a lot better next year.
That's really interesting. It's almost like a mock trial for Cyber.
Yeah.
What is your favorite thing about the lab?
As a lab manager, I got to manage the actual infrastructure of the lab, and that's invaluable experience. We have to work with real systems and make sure that they are working properly so that we can serve students who come in to do their assignments or want to experiment with things and whatnot. We get to make mistakes and learn from them in a way that doesn't have disastrous consequences. It still sucks when things go down, but that to me is the best way to learn. Even though Capitol classes try to be as hands-on as they can, you can't get more hands-on than actually working with the systems.
Capitol Technology University has programs in cyber security at the undergraduate, master's, and doctoral levels. We also have programs in cyber analytics at the undergraduate and master's levels. If you want to come in and see if cyber might be the right fit for you, check out our workshops, or sign up for a Cyber Saturday.
Tags:
Cyber Lab