Online (and On-Campus Fall 2024)

Earn an Online Master of Science (MS) in Computer Science
Our master of science in computer science ranked #10 Most Affordable Master's in Computer Science in the US by Master's Program Guide.
Consisting of 10 courses Capitol Technology University's 30 credit hour online MS Computer Science program can be completed in as little as 1 year. Capitol Technology University Is located in the Washington DC metropolitan area, in the heart of one of the world's most important technology and security hubs within miles of such agencies as the NSA and NASA Goddard, government department employers and significant private employers such as Amazon and Capitol One. Capitol's MS Computer Science can provide a key career development step to rapidly develop your skills that are in high demand from such employers.
Artificial Intelligence
Machine Learning
Software Engineering
Data Science
The world has evolved considerably in the last two decades, driven by the relentless advancement of technology. With each passing year, we see a deeper integration of digital technology in every aspect of our lives. One particular field that stands at the forefront of this digital revolution is Computer Science. As we edge deeper into the 21st century, pursuing an Online Master of Science in Computer Science is not just an exciting educational prospect, but an astute career move.
Expanding Job Market
The U.S. Bureau of Labor Statistics anticipates a 15% growth in computer and information technology occupations from 2020 to 2030, far outpacing the average for all occupations. This includes a diverse range of high-paying roles such as software developers, information security analysts, and data scientists, among others. An Online Master of Science in Computer Science degree can be your gateway to these opportunities, equipping you with advanced knowledge and skills that are highly sought after in the job market.
A Catalyst for Innovation
The field of Computer Science is the bedrock upon which innovation in our world is built. From artificial intelligence and machine learning to cybersecurity and data science, the possibilities for innovation are practically limitless. Pursuing an Online Master of Science in Computer Science will provide you with the platform to contribute to this cutting-edge field, whether it's by developing groundbreaking software, designing robust security systems, or leveraging data to drive strategic decision-making.
Flexibility and Convenience
One of the primary advantages of an online degree is the flexibility it offers. With an Online Master of Science in Computer Science, you can learn at your own pace and study at a time and place that suits you. This means you can balance your studies with your job, family commitments, or other personal obligations. In addition, the online format allows you to connect with a diverse network of peers and faculty from around the world, providing a rich, global learning experience.
Affordability
Online education often comes with a lower price tag than its on-campus counterparts. Reduced overhead costs mean that universities can pass on these savings to students in the form of lower tuition fees. Not only does this make an Online Master of Science in Computer Science more affordable, but it also enhances the return on investment, as graduates can often recoup their educational costs faster due to the high earning potential in the field of Computer Science.
Future-Proof Skills
As our reliance on technology continues to grow, the demand for individuals who can navigate, innovate, and secure our digital landscape will only increase. An Online Master of Science in Computer Science provides you with the skills to remain relevant in a rapidly evolving industry. Courses in areas like artificial intelligence, cybersecurity, data analytics, and cloud computing ensure that you're well-prepared for the challenges and opportunities of the digital future.
In this era of digital transformation, an Online Master of Science in Computer Science represents a savvy career move. It offers a path to enter a growing job market, a platform for innovation, the convenience of online learning, and the acquisition of future-proof skills. As the world becomes ever more tech-dependent, those with an OMSCS will find themselves in an enviable position, ready to shape and lead the digital revolution.
Investing in an Online Master of Science in Computer Science is investing in your future – a future where technology is not just an accessory but the driving force of progress. By choosing this path, you're not only securing your place in the job market but also contributing to the growth and innovation of the technological world. Your journey towards the future begins with an OMSCS. Embrace it, and let the world of opportunities unfold.
A computer science master degree provides the ideal basis to move towards such careers as:
Machine learning engineer–average base pay, $147,3001, ranked 1st in 'best jobs in the US2
Data scientist–median base pay, $131,0002, ranked 1st in "best jobs in the US"3
Computer vision engineer–average base pay, $158,3002
Software engineer–median base pay, $104,0001, ranked 10th "best job in the nation"2
Data engineer–median base pay, $131,6731, ranked 8th "best job in the nation"3
Software engineering manager–median base pay $153,000, ranked 43rd 'best job in the nation3
Enterprise architect–median base pay $122,5854
The program teaches the foundational computer science knowledge, combined with hands-on practicality and advanced topics.
With the university's strong links with large and small DC-area employers, who have an un-met demand for high technology graduates, we aim to connect our outstanding graduates to these employers and awaiting opportunities.
1. Indeed 2020 salaries
2. Indeed 2019 Best Jobs in US
3. Glassdoor's 2019 50 Best Jobs in America
4. Salary based upon 2019 Glassdoor salary data
Why Capitol?
Our location is a magnet for top faculty
The Baltimore/Washington area has one of the largest concentrations of high-tech companies, defense contractors, and government agencies.
Our classes are comprised of like-minded peers
Through collaboration with other students, you'll learn skills and techniques in class that you can apply on the job immediately.
Program is 100% Online
Our master's in computer science program is offered 100% online. Once you are accepted, all you need is an Internet connection and you can attend class. We keep the classes small so you receive personalized attention from faculty who are interested in sharing their knowledge and helping you succeed.
Capitol Tech Opportunities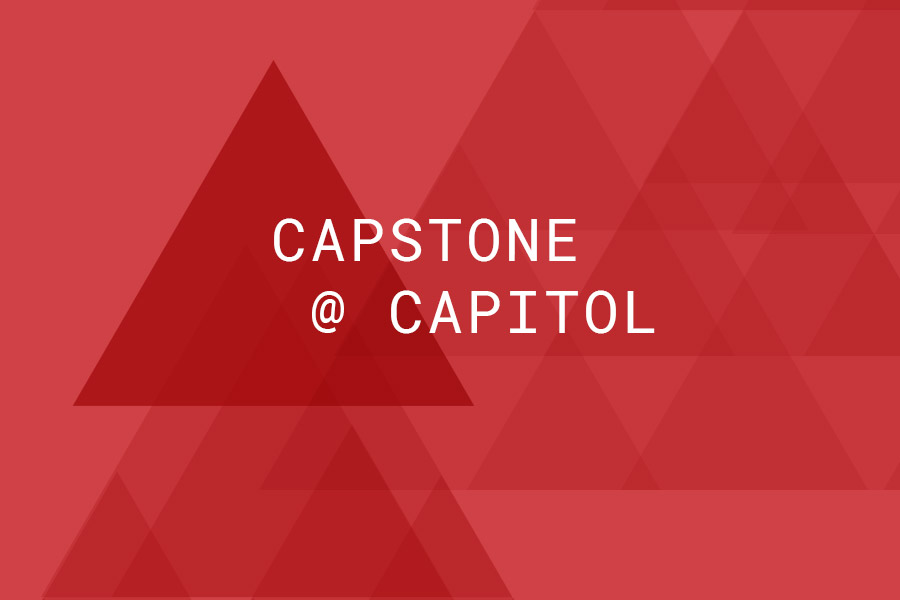 Capstone Project
You'll work with a faculty member to develop a major project-based research paper that draws on prior coursework and your personal experiences.
Career Opportunities
Market Demand for Computer Science
Get the advanced education needed to become a business cybersecurity manager, information security analyst or a business management/cyber analyst.
Those who earn a master of science in computer science pursue careers as:
Data scientist
Software/systems analyst
Software/systems architect
IT manager
Network engineer
According to the National Association of Colleges and Employers, computer science graduates are at the top of the list of projected highest-paid master's degree graduates, with an average salary of $81,039.
Degree Details
---
Curriculum
Generally, to apply to a graduate degree program, you should have completed a bachelor's degree or be completing a bachelor's degree prior to enrollment and should have a 3.0 cumulative grade point average or higher.
Some Master of Science programs have additional technical competency requirements.
Computer Science
A Bachelor of Science degree in computer science or related area is recommended but not required. Students who do not have a B.S. in computer science or related area must have the following programming knowledge:
Programming equivalent to Capitol Technology University course CS-225 Intermediate Java:
Programming (one or more of Python, Java or C++ recommended)

Object-oriented programming (classes, objects, inheritance and polymorphism)

Data structures (queues, stacks, lists, linked lists and trees)
---
Tuition & Fees
Tuition rates are subject to change.
The following rates are in effect for the 2024-2025 academic year, beginning in Fall 2024 and continuing through Summer 2025:
The per credit charge for all other masters courses is $630 per credit hour.
The active duty military tuition rate is $350 per credit.
The retired military tuition rate is $530 per credit.
The information technology fee is $40 per credit hour.
High School and Community College full-time faculty and full-time staff receive a 20% discount on tuition for master programs.
Find additional information for 2024-2025 masters tuition and fees.