Do you like to stay informed about new technological developments and their implications for human society? Are you interested in learning more about emerging technologies and areas of innovation?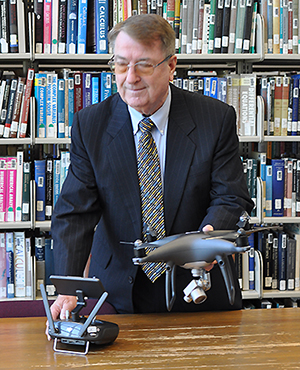 If so, we invite you to join us for an exciting new series of online talks being presented monthly by Capitol Technology University. During your Friday lunch hour, tune in as a distinguished subject matter expert briefs you on technology topics and fields questions from listeners.
CapTech Talks will kick off on January 18 with a presentation by Dr. Richard Baker, an authority in the field of unmanned and autonomous systems (UAS). Dr. Baker is director of master's programs at Cap Tech, and has been instrumental in developing the university's new bachelor's, master's, and doctoral programs in unmanned and autonomous systems.
During his talk, Dr. Baker will demonstrate some of the myriad ways in which unmanned and autonomous systems are already transfiguring our lives – whether we realize it or not.
"These systems are here to stay," Baker says. "Everyone will be working with them someday, in one way or another. We'll be looking at how they are enhancing our lives or otherwise influencing us today, and what we can expect down the road."
Many misconceptions about unmanned systems exist among the general public, Baker says, including the notion that they are job-killers. "Of course they are going to change the way we do a lot of things," Baker says. "They will eliminate some jobs. But like all technology in the past they will also create new jobs."
"Industry, for example, is automating some factory jobs, and in the process bringing about a safer, cleaner environment. That will eliminate some jobs on the factory floor. At the same time, though, we can retrain those people for newer, higher-paying jobs – maintaining autonomous systems, for example, or working with software," Baker said.
"In the long run, there will be new opportunities and different kinds of jobs," he said. "Part of what we're doing at Capitol Tech, through our undergraduate, master's, and doctoral programs, is to help prepare you for these changes and the opportunities that they bring."
Dr. Baker's talk will be accessible through Capitol Tech's live virtual classroom: simply click here to attend.  When the new page populates, enter as guest and type in your name.  Click "enter room," and you will be taken to the lunchtime chatroom. Advance registration is preferred, though not required: to register, go to https://www.captechu.edu/admissions/graduate/register-graduate-info-session. 
  The CapTech Talks series will continue each month with additional speakers addressing topics of interest in fields such as computer science, cybersecurity, critical infrastructure, analytics, management of technology, and engineering. "At Capitol Tech, our strength is in our programs," says Meghan Young, director of admissions. "Our CapTech Talks will provide a venue for exploring topics of interest in fields related to the programs we offer."
The sessions are interactive, Young says. "Our speakers will provide the opportunity to ask questions and engage in discussion – but it's also fine to just listen in."
Want more information? Contact the admissions department at admission@captechu.edu or phone 1-800-950-1992. We look forward to your participation!